HBO's 'The Young Pope' with Jude Law: Premiere date, latest news and more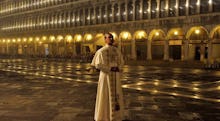 It's difficult to think of a show from the past couple of years that's been as much of a cultural phenomenon as The Young Pope — let alone before it's even been released. The upcoming HBO miniseries, which premieres on Sunday, Jan. 15, follows — as its title suggests — a young pope who faces adversity from within the Catholic Church when those surrounding him realize he's not going to be the puppet they had hoped for.
Before it airs, here are some things you should know about the Jude Law-starring drama. 
Release date
The Young Pope's first of 10 episodes will air on HBO on Sunday, Jan. 15, at 9 p.m. Eastern. While it's the first time American audiences will receive the show, it already premiered in Italy on Oct. 21, 2016, on Sky Atlantic. The series is directed by Italian director Paolo Sorrentino.
What you need to know
Now that the series is getting its stateside release, American critics have already started to put up their reviews, and, luckily for HBO, it looks like they have a hit on their hands — mostly. 
"The Young Pope is as glamorous and sumptuous as it is hilarious and unsettling," Brittany Volk at the Tampa Bay Times said of the series. 
"It could have been overwhelmed by its splashy premise ... But The Young Pope was stunning, thoughtful and dreamlike," Rebecca Nicholson wrote in the Guardian.
Mic's own Miles Surrey, however, wasn't as huge of a fan: "With the right execution, yes, The Young Pope could be a compelling, cynical exploration of faith. Unfortunately, the series is more interested in shocking its viewer than providing any thematic depth."
What else? 
In its first season, The Young Pope introduces the world to Pope Pius XIII, who, we're quick to see, is a pretty assertive dude with a clear and conservative vision for the future of the Church. He enlists the help of the nun who raised him, played by Diane Keaton, as he faces dissent not only from the outside world, but from those within the Vatican as well.
While the first season certainly builds the world that this fictional pope occupies, it looks as if we'll see more in the series' second season, which has already been approved.