What to know about Donald Trump's Cabinet Senate confirmation hearings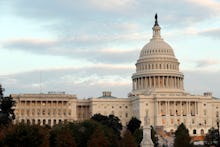 (At least) nine hearings in three days. What you need to know.
This week, Donald Trump officially begins to take over Washington. Between Tuesday and Thursday, at least nine of Trump's nominees to cabinet positions are expected to come before the U.S. Senate. The confirmation hearings will feature the likely secretaries of defense and education. The nominee for attorney general will appear, as will the likely head of the State Department. Nominees for the secretaries of housing and urban development, transportation, commerce and homeland security are also set to testify.
These are the people who will implement the agenda of an incoming president who reportedly plans to give his cabinet secretaries "lots of autonomy" (Politico) — compounding the importance of the hearings this week. Trump will look to Betsy DeVos, his nominee for education secretary and a zealous backer of school choice, to reshape American education. He will call on Rex Tillerson, the outgoing ExxonMobil CEO with close ties to Russia and would-be State Department head, to better U.S. relations with Vladimir Putin. And the next time a police shooting grips the nation, Jeff Sessions, Trump's pick for attorney general, will advise the president — even as the Alabama senator faces accusations of a racist past.
This week's confirmation hearings will offer the first glimpse into who will run the country under a Trump presidency. Here's what you need to know.
Ethics and vetting questions abound. The head of the Office of Government Ethics warned Saturday with "great concern" that some of Trump's cabinet nominees had yet to complete the standard ethics review process. (ABC News) Senate committees are missing ethics paperwork — which they usually draw on to question potential cabinet members — for Trump's commerce, education, homeland security and housing and urban development nominees. (Wall Street Journal) Some nominees are also waiting to complete FBI background checks. (New York Times) Government watchdogs have expressed concern about roughly 11 billion potential conflicts of interest — that's the combined net worth of Trump's cabinet picks — especially considering the president-elect's own ethics minefield.
As one might expect, the Trump team is not too concerned. Trump chief of staff Reince Priebus says there is "no reason" to delay hearings until background checks are complete. (Fox News) 
Democrats want to reschedule, but McConnell won't budge. With Republicans holding 52 votes in the Senate, most or all of Trump's nominees are likely to be swiftly confirmed. But that will not stop the opposition from protesting. On Saturday, Democrats called for a delay in confirmation hearings until all of Trump's cabinet nominees completed ethics forms. GOP Senate Majority Leader Mitch McConnell's response on Sunday? He won't allow any votes on nominees until ethics paperwork is complete. The hearings — despite the lack of ammo ethics paperwork might provide — will continue as planned.
Cabinet nominees are being grilled in preparation. Though Republicans have stacked this week with nomination hearings, making it harder for Democrats to draw attention to controversial details during a particular session, Trump's team is taking no chances. Politico reports the nominees for top cabinet positions are enduring "murder boards" — intense prep sessions — to increase the chances they sail through the Senate without issue. 
Tillerson and Mattis will divest. Last week, Tillerson and Defense Secretary nominee James Mattis announced they will divest key stock holdings if confirmed by the Senate. Tillerson will sell around $54 million in ExxonMobil stock, and another $180 million will be put in an independent trust. (CNN) Mattis will sell his stock in a Defense Department contractor and leave the board of the company. (Politico) Trump, for his part, has yet to detail how or if he will divest his wealth.
Remember: Trump planned another "news conference" for this week. He previously announced, then canceled, one scheduled for a month ago. The conference is set to take place in New York City on Wednesday, the same day several cabinet nominees appear before the Senate. (Mic) 
Navigating Trump's America will cover senate confirmations all week in this space and at mic.com/navigatingtrumpsamerica. 
Is the Russia chapter over?
Hardly. With the U.S. intelligence report on Friday that said Vladimir Putin personally ordered hacking to influence the 2016 election, last week saw the climax of the battle between Trump and the intelligence community. (Mic) It was the final appraisal of Russia's attempt to help elect Trump before Trump is actually in office. After Jan. 20, any new intel reports on Russia will come through the Trump administration's intelligence apparatus. And Trump has made clear that the U.S. should have a strong relationship with Russia while dismissing any claim hacking influenced the election result.
Friday's report shocked Washington and the political establishment, but that's a pattern for almost anything involving Trump. The key question is what, if anything, Trump will do as president to retaliate against Russia for the "act of war" officials are certain Putin ordered against the U.S. The apparent answer: Become even friendlier.
News and insight you cannot miss:
— President Barack Obama will give his farewell address on Tuesday. Thousands lined up in the bitter cold in Chicago this weekend for free tickets to the renowned orator's final address as president. (Chicago Tribune)
— Meryl Streep called out Trump at the Golden Globes. She shamed him for mocking a disabled reporter during the campaign, criticized his attacks on a "free press" and said her fellow members of Hollywood should be proud of their work as actors to empathize. (Mic) Trump shot back on Twitter early Monday, calling Streep "over-rated" and saying he never mocked the reporter. (He did.) It was not a good look for the president-elect.
— Two must-reads about Trump son-in-law Jared Kushner. Ivanka Trump's husband reportedly used Donald Trump's victory to chase a deal with a Chinese businessman. (New York Times) And Kushner is set to become the "most trusted adviser and enforcer in the West Wing." (New York)
— Meet the 30 most powerful people and groups in Donald Trump's Washington, according to Politico.
— Five (extremely tough) questions for Jeff Sessions from the ACLU: on race, equality, voting rights and more. (New York Review of Books)
— "How the tables are turning on Obamacare." Seven years ago, Republicans criticized Democrats for pushing a health care law through without bipartisan support. Now, Democrats seem unlikely to support any GOP overhaul of Obamacare — setting up a "repeal the repeal and reinstate" situation if Republicans lose control of Congress. (CNN)
— ICYMI: The former president of Mexico is back with more comments about Trump's proposed wall along the U.S.-Mexico border. "Trump, when will you understand that I am not paying for that fucken wall. Be clear with the U.S. taxpayers. They will pay for it," Fox wrote on Twitter. (Mic)
— Happening Monday: Environmentalists plan to rally against Trump nationwide. The "Day Against Denial" will bring together climate change activists in rallies at the offices of U.S. senators across the country. (The Nation)