Jared Kushner to be named senior adviser to Donald Trump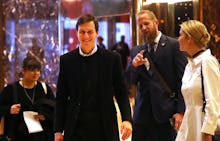 In apparent defiance of anti-nepotism laws, Donald Trump will name his son-in-law, Jared Kushner, senior adviser to the president, NBC News national correspondent Peter Alexander reported Monday. 
Kushner owns the real estate firm Kushner Companies and the Observer media company. He's also married to Ivanka Trump, the president-elect's eldest daughter, who — like Kushner — has been serving unofficially as one of her father's closest advisers. 
As ABC reported, Kushner's role on Trump's transition team would seem to violate anti-nepotism laws, which bar federal officials from hiring, favoring or advancing any relative, in-laws included. In appointing Kushner to an advisory position, rather than to a particular government agency, Trump could clear a path around those laws. 
"Mr. Kushner is committed to complying with federal ethics laws and we have been consulting with the Office of Government Ethics regarding the steps he would take," an attorney for Kushner told NBC. 
Yet conflicts of interest remain a problem: The New York Times reported Saturday on Kushner's dealings with a shady Chinese company, Anbang Insurance Group. Shortly after the election, Kushner met with Anbang chairman Wu Xiaohhui to negotiate a development deal for one of his family's buildings. 
While Anbang is not a state-held company, Xiaohui has a number of close connections within the Chinese government. According to the Times, the strength of Kushner's relationship with Anbang presents ethical quandaries that will need to be addressed — and that's especially true now that he's been tapped as a Trump adviser.