Sofía Vergara's "anal" joke at the Golden Globes: Was it planned?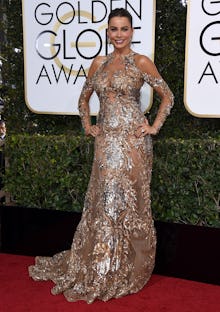 Modern Family star Sofía Vergara presented at the Golden Globes, introducing Sylvester Stallone's daughters — Sophia, Sistine and Scarlet — who shared the title of "Miss Golden Globe" for the 2017 awards ceremony. In her introduction, Vergara read a script in which she said "anal" instead of "annual," sparking an online discussion questioning who wrote the joke and whether it was designed to mock Vergara.
"The Hollywood Foreign Press Association has an anal tradition," she said. "I didn't mean ... they have an anus tradition. They have a tradition that they do every year of choosing a second-generation performer to assist in the presentation of the awards."
The joke was perceived as making fun of Vergara, who is Colombian-American, for her accent.  
Before presenting, the actress shared a photo on Instagram implying she wrote the joke. The caption read: 
"I look lonely back stage but I was just trying to come up with my an*s joke hahhahha!!!! #goldenglobes2017#itsallaboutentertaining" 
This was not the first time Vergara was the butt of a joke at an awards show. When the Modern Family star presented at the 2014 Emmy Awards, she was forced to stand on a revolving pedestal while Academy of Television Arts and Sciences President Bruce Rosenblum stood next to her, talking about the Academy's commitment to diversity. 
Before the 2016 Emmy Awards, Rolling Stone published rules for a drinking game that encouraged people to drink every time "Host Jimmy Kimmel makes a reference to Sofía Vergara's breasts. (Editor's note: Please stop drinking once that number gets to 10.)"
The joke at Sunday's Golden Globes contrasted sharply with the tone of the awards, which featured women in pantsuits on the red carpet. The ceremony went on to honor women of color and strong female roles, with Tracee Ellis Ross and Viola Davis winning best performance by an actress in a television series – musical or comedy and best supporting actress in a motion picture, respectively. Meryl Streep also made an impassioned speech in which she criticized President-elect Donald Trump.