Tomi Lahren tweets up a storm after Meryl Streep's Golden Globe speech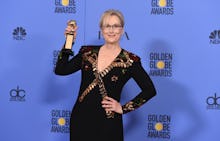 A major highlight from the 2017 Golden Globe Awards ceremony was the impassioned speech given by Meryl Streep, this year's recipient of the Cecil B. DeMille award. After Viola Davis introduced her and presented a montage of Streep's greatest roles, the famed actress used her time on the stage to share a couple of powerful words, many directed toward our president-elect. 
Naturally, Donald Trump was quick to respond to her comments — but he's not the only one airing grievances. Conservative commentator Tomi Lahren took to Twitter to chime in — because of course she did — on Streep's speech.
In her tweets, Lahren evoked the idea that Streep, and Hollywood in general, is elitist. She didn't acknowledge, however, that Streep's speech focused on Trump's infamous mocking of a disabled reporter. 
Following her tweetstorm, Lahren posted a link to an article on Faithwire, which continued to expand upon her point of view.
The article also quotes Kellyanne Conway, who spoke about Streep to Fox News. 
"I'm glad Meryl Streep has such a passion for the disabled because I didn't hear her weigh in or I didn't even hear her use her platform last night ... to give the shoutout to the mentally challenged boy who last week was tortured live on Facebook for half an hour by four young African-American adults who were screaming racial and anti-Trump expletives and forcing him to put his head in toilet water," Conway said.