Trump Twitter: Here are 5 times Donald Trump has tweeted threats to US businesses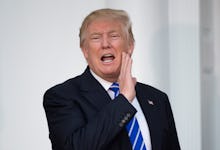 When he's not tweeting about overrated actors, boring and unfunny TV shows and his many enemies who have "lost so badly they just don't know what to do," President-elect Donald Trump can be found tweeting about businesses.
From urging shoppers to boycott "disloyal" Macy's — whose stores "suck" because they stopped carrying his garish clothing line — to dropping Toyota stocks by 1.7% with a tweet promising to force the company to pay a "big border tax" if they open a plant in Mexico, Trump has been prolific in his Twitter threats against private businesses. Frequently featuring his characteristic looseness with the facts, Trump's tweets have the potential to ripple markets and shake corporations; in fact, there's now an app to warn you if a company in which you own stock winds up on Trump's Twitter page. 
Companies singled out by Trump have a choice, former White House Press Secretary Ari Fleischer recently told the Washington Post: "Cave immediately" to Trump's demands or "think long-term and recognize that the moment of duress will pass, that another tweet will be tweeted."
Here are some of the companies Trump has tweeted about so far:
Fiat Chrysler and Ford
Trump's most recent and hastily composed business missive came Monday morning — hours after he went on an ill-advised three-part rant against Meryl Streep — thanking Fiat Chrysler and Ford for expanding operations in Michigan rather than Mexico. 
Fiat Chrysler CEO Sergio said the company's decision was "coincidental" to Trump's tweets; Ford CEO Mark Fields said it was "market demand," not pressure from Trump, that led to his company's decision. 
General Motors
On Jan. 3, Trump threatened General Motors with a "big border tax" for sending a "Mexican-made model of the Chevy Cruze" to the United States.
GM CEO Mary Barra said more than 95% of the Chevy Cruze cars sold in the United States were manufactured at the company's Ohio factory. She also said GM would continue to produce cars in Mexico.
Boeing
Tweeting on Dec. 6, 2016, Trump criticized Boeing for the price tag on new Air Force One planes it is producing.
While Politifact noted the project will indeed be in the ballpark of $4 billion, Trump fails to mention the company is producing two planes — not one — and that what's actually driving the costs of the project are national security requirements, not Boeing itself.
Carrier
In November, Trump announced he had brokered a deal to keep 1,100 Carrier jobs in the United States.
Chuck Jones, president of the United Steelworkers 1999 — which represents workers of the Indiana-based heating and refrigeration company — quickly called Trump out, saying the president-elect had "lied his ass off" and that the real number of jobs saved was closer to 700.
Trump, of course, could not help but respond with a tweet that claimed the union leader had done a "terrible job" representing workers.
Jones began receiving threats after Trump singled him out; his phone lit up with messages that "we're coming for you" and warning him to "keep an eye on" his children.
Macy's
While Trump has taken credit for jobs he says he's saved, he has been silent on job cuts at Macy's. The president-elect has railed against Macy's online since the retailer dropped his clothing line following his racist remarks about Mexican immigrants during the campaign. 
In July 2015, Trump said Macy's stores "suck" and that they were "bad for U.S.A."
Then, in November 2015, he tweeted the company was "disloyal" to him "bc of my strong stance on illegal immigration."
A month later, Trump celebrated a drop in Macy's stock and urged supporters to boycott the retailer.
In November 2016, Macy's CEO Terry Lundgren said he supported the company's decision to discontinue its business relationship with Trump.
"We made our decision about a year and a half ago, and stand by our decision," Lundgren said.