Black Caucus hopes to put race front and center during Jeff Sessions' AG confirmation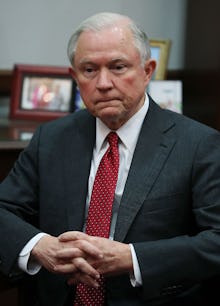 Democrats are hoping to make race a major issue in Sen. Jeff Sessions' attorney general confirmation hearings this week, requesting that members of the Congressional Black Caucus be allowed to testify in his vetting session on Tuesday, Politico reported.
Not only was Sessions once denied confirmation to a federal judgeship in the 1980s over racist comments he allegedly made, Democrats also oppose his record on voting rights — which Democrats say has the greatest negative impacts on minority voters. 
And they are hoping to highlight those issues by having three members of the CBC testify, according to Politico: Democratic Rep. John Lewis, a civil rights icon; Rep. Cedric Richmond, the new chairman of the CBC; and Sen. Cory Booker, who is mentioned among possible Democratic presidential contenders for 2020.
It's likely they'd ask questions about Sessions' past comments about the NAACP — which he allegedly called "un-American."
They'd also likely ask him about his past statements questioning the need for the Voting Rights Act, a 1965 law enacted to protect African-American voters from being unfairly blocked from the voting booth — a common practice in the once segregated South. 
Senate Judiciary Chairman Chuck Grassley, R-Iowa, is reportedly OK with having members of the CBC testify, but only after other outside witnesses have testified, an effort Democrats say would bury the members' testimony, according to Politico.