#DearBetsy is a heartfelt campaign asking Trump's education secretary to protect Title IX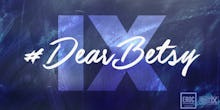 A coalition of women — including sexual assault survivors and members of the LGBTQ community — have united to send a heartfelt video message to Betsy DeVos, Donald Trump's nominee for education secretary, before her nomination hearing Wednesday.
In Partnership with Know Your IX, End Rape on Campus launched the multimedia campaign #DearBetsy imploring DeVos to promise to protect and enforce Title IX rights for all students regardless of gender identity, gender expression and sexual orientation, Sofie Karasek, director of education for End Rape on Campus, said in the YouTube video. The campaign also asks DeVos to keep public all lists of educational institutions under investigation for Title IX violations and to uphold the Title IX rights for sexual violence and harassment.
"Each year thousands of students — one in four cisgender women and one in 16 cisgender men — are sexually assaulted in campuses across the nation," one individual said in the video. Another pointed out these rates are much higher for students of color and LGBTQ students.
Since the election, many sexual assault survivors and LGBTQ students have been concerned about the GOP's platform to weaken Title IX compliance. The Trump transition team has not made any public statement expressing the incoming administration's commitment to protecting the Title IX rights of these marginalized groups. 
On Monday, women and LGBTQ individuals across the country joined the #DearBetsy campaign with their own tweets and videos. 
Colleen Daly, director of media and strategic communications for End Rape on Campus, said it's imperative for everyone — not just survivors or those vulnerable to Title IX violations — to speak up and organize against sexual violence.
"It shouldn't be on the back of survivors to create a world free from sexual violence," Daly told Mic in a phone interview. "It should be up to all of us to ensure that kind of environment exists. We know that when we have these systems of violence and we have these systems of injustice, that's oppressive for all of us."
Daly said the campaign is hopeful DeVos will hear their message.
"If nothing else, [what] we want to do is create a conversation among the folks who may be in her ear," she said.
Daly also mentioned that while one of the video's main goals is to reach out to DeVos and ensure her commitment to protecting and enforcing Title IX rights, it's also about inspiring people to come together in the name of activism.
"With the staggering rates of sexual violence, all of us know someone that has been impacted," Daly said. "It's really important we as a community take care of each other and work to address the issue of sexual violence."