Why it's great 'Crazy-Ex Girlfriend' is renewed for another season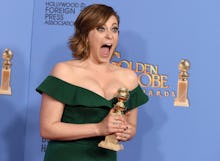 Crazy Ex-Girlfriend, the musical comedy created by and starring Rachel Bloom, has been renewed for a third season despite low ratings.
Currently airing on the CW on Fridays at 9 p.m. Eastern, the comedy follows the misadventures of Rebecca Bunch, a high-powered New York lawyer who impulsively moves to California in pursuit of her teenage summer camp boyfriend. Despite a title that sounds like a sexist stereotype and setup for a clichéd romantic comedy, the show unapologetically subverts the norms of the genre, including marriage, female friendship, beauty standards and girl groups and male bisexuality. 
"When you have great critical work and a critically acclaimed and [award]-nominated show like [Crazy Ex-Girlfriend], it deserves to be picked up," CW President Mark Pedowitz told TV Guide. "It has nothing to do with numbers. It has everything to do with [how] Crazy Ex, Jane the Virgin and the DC franchises have helped alter the perception of what the CW has become."
Beauty standards 
Bloom, who not only stars in the show but is a writer and producer, has covertly used the show as a platform to subvert typical beauty standards in Hollywood. It was just a few minutes into the pilot episode when she performed "The Sexy Getting Ready Song," which mocked the ideal of a sexed-up woman getting ready for a night out. 
And Bloom's best friend and partner-in-crime on the show, Paula, played by Donna Lynne Champlin, is a plus-sized woman whose size is not the defining aspect of her character. 
"A theatre person, especially a theatre person who looks like me, is not reflected on TV back to me," Champlin told Bust.com. "My type is middle-aged woman, not thin. I look like the average American middle-aged woman. The only TV roles I've ever had were for the secretary, the cop, the nurse. The acceptable nonsexual place for a middle-aged woman to be on TV. They would be 1-2 lines and that was it, and never be a series regular. That was unheard of."
Additionally, Josh Chan, Rebecca's first romantic interest, is played by Vincent Rodriguez III, an Asian-American man — and a rarity in Hollywood. 
Mental health 
While the term "crazy ex-girlfriend" may remind someone of a man talking disparagingly about his ex-girlfriend, the "crazy" in this show is actually referring to Rebecca's mental health, which is clearly precarious from the pilot episode and depicted through the show's wildly varied musical numbers. 
Nothing demonstrates this show more than the song, "You Stupid Bitch," which Rebecca sings after being confronted by both Josh and Greg about her dishonesty. Sung as a diva's showstopper, the song features Rebecca berating herself about her decisions, her appearance, her weight and her overall worth as a human being. 
It's feminist 
Crazy Ex-Girlfriend recently addressed the subject of abortion in a refreshingly honest way. When Paula finds herself unexpectedly pregnant, she and her husband initially refer to the "options" available to them. But when she does decide to abort her pregnancy, it is her son who says the word, casually shouting it as he gets the pizza at the door.
"Mom! I'll get it since you just had an abortion," to which she replies, "You're a good son."
And the show promotes women pursuing their dreams. When Paula decides to apply to law school, the show features her and Rachel jumping up and down and squealing in joy. The friendship between Paula and Rebecca is also surprisingly honest relationship, with Paula holding Rebecca accountable for her actions. The real relationship that Rebecca engaged in the first season wasn't with Josh or Greg; It was with Paula. 
Musical numbers!
While comparisons to Glee or Smash are inevitable, the songs in Crazy Ex-Girlfriend fit seamlessly into the plot and enhance both the characterization and plot — whether they're spoofing famous Marilyn Monroe movies or popular music trends. And they're hilarious.