Nintendo Switch Price Rumors: 'Nikkei' predicts low cost for new Nintendo console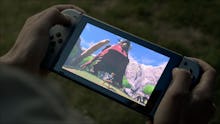 Nintendo's big Switch reveal event is just a few days away, but that's only accelerated the rumor mill's assembly line. This newest leak is about the supposed price of the console, fresh from a pretty credible source: Nikkei.
Nikkei is one of the biggest business newspapers in the world. When it talks, people tend to listen.
Nintendo Switch price: Nikkei's prediction
According to a translation from Engadget, Nikkei is eyeing a Japanese price point of 25,000 yen, which roughly converts to about $215 U.S. Keep in mind this is only an educated guess rather than an inside scoop. 
Also keep in mind that the U.S. price for the Switch will likely not be a direct conversion from the Japanese price. As Engadget pointed out, the Wii U launched at $299 in the U.S., which was actually less expensive than the 26,250 yen in Japan at that time.
Based on the Switch's slightly underpowered hardware compared to the Xbox One and PS4, it's reasonable to think Nintendo could charge around $250 at launch. A $300 deluxe model with an included game and maybe some extra internal memory would be enticing too, but we won't know anything concrete about the pricing or launch details until the official announcement later this week.
More Nintendo Switch news and updates
Check out more Nintendo Switch coverage, including Mic's reports on whether the console will be backwards-compatible, if more characters are coming to Smash Bros., what current games we want high-definition remakes of and information about the upcoming Nintendo Switch event.