Obama Farewell Memes: With tears and hilarity, the internet honors the outgoing president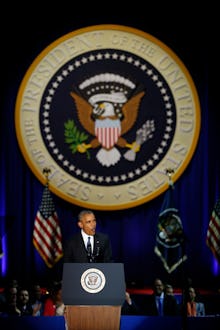 On Tuesday night, President Barack Obama delivered his farewell address in Chicago after serving as commander in chief for eight years. In his goodbye to the nation, Obama shared a message of optimism, calling on people to believe in their capacity to bring forth change:
My fellow Americans, it has been the honor of my life to serve you. I won't stop; in fact, I will be right there with you, as a citizen, for all my remaining days. But for now, whether you are young or whether you're young at heart, I do have one final ask of you as your president — the same thing I asked when you took a chance on me eight years ago. I am asking you to believe. Not in my ability to bring about change — but in yours. 
The internet honored the final stretch of Obama's presidency the only way it knew how: memes. Below is a roundup of some of the best memes created about Obama's departure and farewell address.