Oscar Predictions 2017: What's next for 'Moonlight' after the Golden Globes?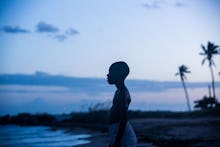 La La Land and Moonlight snagged the most Golden Globe nominations at the 2017 ceremony celebrating the best 2016 had to offer in film. Of its seven nominations, La La Land won each and every award. Moonlight, on the other hand, didn't fare as well, winning only one of its six nominations. 
The Golden Globes are by no means a perfect indicator of what will go down at the Oscars — especially because films are divided by "comedy/musical" and "drama" at the Golden Globes — but given the snubs, we can't ignore the influence the ceremony has on Moonlight's chances to win big at the Oscars come February. 
Best supporting actor — Mahershala Ali
Perhaps the best place to begin is with the surest contender — or at least the surest contender before the Golden Globes — Mahershala Ali. 
Ali's role in Moonlight is a small but substantial one. He plays Juan, a drug dealer who ends up being a father figure to a young Chiron after finding the young boy hiding out from bullies in a crack den. Ali turns in a stunning and subtle performance, and the scenes he shares with Alex Hibbert, who plays Chiron as a child, are among the film's most heartbreaking. 
Since the awards race began, Ali has been one of the most consistent winners. He's won the Critics' Choice Movie Award for best supporting actor, the National Society of Film Critics Award for best supporting actor, the New York Film Critics Circle Award for best supporting actor and the Los Angeles Film Critics Association Award for best supporting actor. Still, he missed out on the biggest award yet: the Golden Globe, which went to Aaron Taylor-Johnson for his work in Nocturnal Animals.
Ali is all but guaranteed to get an Oscar nomination for his work, but given the snub at the Golden Globes we can't call his win a no brainer. Hopefully, outrage over the loss will inspire the Academy to push him to the top.  
Best supporting actress — Naomie Harris
Unfortunately for Moonlight, this is probably the only category where it really doesn't have a shot. This isn't a dig at Harris, who wowed with her nuanced performance as Chiron's addict mother, a woman who can't move past her own demons to take care of her son, but the best supporting actress race really seems to be between Viola Davis from Fences and Michelle Williams from Manchester by the Sea.
Both actresses are considered overdue — Davis was nominated twice before and Williams has three nominations under her belt — but Davis in particular has been killing it in the awards department so far. Davis took home the Golden Globe for her performance and was rewarded for her supporting turn at the Critics' Choice Awards. 
Harris will probably be nominated, but this does seem like a year where it's between the veterans. 
Best director — Barry Jenkins
Moonlight and La La Land weren't exactly competing against each other at the Golden Globes. The latter film was in the comedy/musical category, and Moonlight was in drama. Nevertheless, Barry Jenkins went head to head with Damien Chazelle in the best director and screenplay categories, and both times he was defeated. 
When it comes to the directing category at the Oscars, Jenkins doesn't only face competition from Chazelle, but by fellow Golden Globe nominees Kenneth Lonergan from Manchester by the Sea, Tom Ford from Nocturnal Animals and Mel Gibson from Hacksaw Ridge. He's also up against directors of some other notable films from 2016: Pablo Larrain from Jackie, Martin Scorsese from Silence, Denzel Washington from Fences and Clint Eastwood from Sully. 
Jenkins won awards for his directing from the Los Angeles Film Critics Association, the National Board of Review, and the New York Film Critics Circle, so he's definitely not out of the running. But if there's a La La Land sweep at the Oscars, it's difficult to imagine beating Chazelle. 
Best adapted screenplay — Barry Jenkins  
When it comes to screenplay, things get a little trickier and looking at the Golden Globes may not work so well. Chazelle may have beat Jenkins for his La La Land screenplay at the Globes, but if both films are nominated at the Oscars they will be nominated in different categories. 
Chazelle's La La Land script is an original, while Jenkins's is an adaptation of In Moonlight Black Boys Look Blue, a play by playwright Tarell Alvin McCraney. Therefore, Jenkins is up against other films whose screenplays come from outside sources. There's also Arrival, Fences, Hidden Figures, Loving, Nocturnal Animals and Silence to consider. 
So far the only major screenplay award Jenkins has won was from the Gotham Independent Film Awards. But the Oscars will be the first major ceremony that separates original and adapted. Moreover, the pool is bigger. 
Best picture — Moonlight
Finally, we arrive at best picture. Working in its favor is its Golden Globe win against Manchester by the Sea, Lion, Hacksaw Ridge and Hell or High Water. In terms of a nomination, it's almost a sure bet, especially because unlike the Globes, the Oscars make more room for films — anywhere from five to 10 films can be nominated a year.
Given the lack of diversity which has plagued the Oscars, Moonlight also marks an opportunity for the Academy to get its act together, to be more conscious about the films they promote and whether or not they are representative of the population at large. Moonlight, is a film about race, about sexuality, about masculinity, but it's also a powerful story about self-discovery and identity, and under these lenses it is an entirely relatable film on all fronts. 
Nevertheless, La La Land has its Golden Globe sweeps working for it. Also, for the argument that a drama always beats comedy, the most recent case against that is the 2012 Oscars, where The Artist, also a musical, ended up winning best picture. 
There's also Manchester by the Sea to consider, which was named best film by the National Board of Review and the New York Film Critics Circle. Moonlight may have been named best picture by the Hollywood Foreign Press Association, the Gotham Awards, the Los Angeles Film Critics Association, and the National Society of Film Critics, but we shouldn't grow complacent and think it's a surefire win. 
It's best to remain cautiously optimistic.