How the government funds Planned Parenthood on the state and federal levels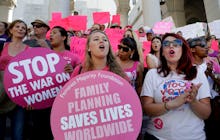 The new session of Congress began last week, and Planned Parenthood is already under attack. Republicans have vowed to cut federal funding to the organization as part of their repeal of the Affordable Care Act — and it's not likely they'll face resistance from President-elect Donald Trump.
Despite the fact a majority of Americans support funding Planned Parenthood, the organization's federal and state funding have long been a source of contention for Republican legislators. 
The Congressional Budget Office, however, projected that if Congress were to defund Planned Parenthood, it would result in an increase of $130 million in direct spending over the course of 10 years — not to mention the devastating consequences it would have for the people who rely on its services.
Here's a breakdown of the government funds Planned Parenthood receives at both the federal and state level.
Federal funds
According to its 2014-15 annual report, Planned Parenthood receives $553.7 million annually in government health service grants and reimbursements, which is 43% of its overall revenue.
However, Planned Parenthood does not receive that federal funding in the form of a blank check or a government account to be billed as the organization pleases. Rather, federal funding is allocated to Planned Parenthood in two ways: through Medicaid and public family planning services, most notably Title X.
About 75% of Planned Parenthood's government revenue comes from reimbursements provided through Medicaid, the government health care provider for low-income Americans. Planned Parenthood reports that one in five women between the ages of 15 and 44 is on Medicaid. 
These Medicaid reimbursements for preventative care work in the same manner as any other health insurance: A Planned Parenthood patient on Medicaid comes in and receives their care, after which Planned Parenthood submits a claim to Medicaid for the services provided. Medicaid then reimburses Planned Parenthood as it would with any other health insurance. 
Adding to the federal government's role in Planned Parenthood's Medicaid funding is the Affordable Care Act, which allows states to expand their Medicaid programs. Thanks to the ACA, 17% of women were covered under Medicaid in 2015, as compared to 10% of women prior to the ACA in 2010. An additional 1.3 million women would gain Medicaid coverage if the remaining states that have not yet done so were to expand Medicaid coverage, the Henry J. Kaiser Family Foundation projects.
Title X funding, on the other hand, is awarded as a grant to Planned Parenthood. The organization receives approximately $60 million in Title X grants, according to a 2015 Congressional Budget Office analysis quoted in the Washington Times. Planned Parenthood must specifically use these funds to support family planning health care. 
This care includes cervical and breast cancer screenings, STI testing and treatment and birth control. It specifically does not include abortions, as Title X funds are prohibited from being used for abortion services under federal law. Nevertheless, Republicans have sought to eliminate the program on multiple occasions — despite studies that reveal every $1 invested in family planning programs saves the American taxpayer $7.
Similarly, Medicaid funds are also largely prohibited from being put toward abortions. The Hyde Amendment specifically stipulates that federal Medicaid funds cannot be used for abortion services, except in cases of rape, incest or endangerment of the mother. 
State funding
State funds also go toward Planned Parenthood's funding through Medicaid. 
States' control over their Medicaid programs has some benefits to Planned Parenthood advocates: In addition to the Medicaid expansion provided through the ACA, 17 states have expanded how Medicaid funds can be applied to abortion services. These states have policies stipulating Medicaid will pay for "all or most medically necessary abortions" using state funds. 
However, this control has also resulted in many attempts by state governments to defund Planned Parenthood. As of 2016, 24 states had taken up measures to defund the organization.
As there's no direct check or subsidy being issued to Planned Parenthood from the government, however, states have had to come up with more creative ways to defund the organization. 
Some states, such as Louisiana, have tried to do so by terminating the organization's Medicaid contract — though such efforts have been met with legal resistance. Federal law requires Medicaid programs to cover family planning services and supplies to its constituents who are of child-bearing age, and the program also contains a "free choice of provider" provision that stipulates Medicaid enrollees may "seek family planning services from any qualified provider."
States can also attempt to defund Planned Parenthood by refusing to allocate federal Title X money to the organization. Ohio Gov. John Kasich, for instance, stopped awarding federal family planning grants to the organization through the Ohio Department of Health after taking office in 2011, his press secretary Joe Andrews told the Daily Signal. 
Finally, states can also strip funding for Planned Parenthood through state family planning programs. In addition to cutting its funding for family planning services and de-prioritizing Planned Parenthood, Texas replaced a largely federally funded Medicaid waiver program, the Women's Health Program, with an entirely state-funded program in 2013. The state-run program was nearly identical to the old one — except it specifically excluded clinics associated with an abortion provider. 
Once undertaken, these state defunding measures can have devastating results. Maternal mortality rates in Texas doubled right after the state cut its family planning budget in 2011, and researchers concluded the funding cuts would result in an additional 20,511 births that would cost taxpayers over $230 million in Medicaid funds. As a result, the state restored the funds in 2013. Nevertheless, 55% of women in the state reported having at least one barrier to accessing reproductive health care as of May 2015. 
In Kansas, the number of Americans accessing care services through Title X services dropped by 14,000 after the state took steps to defund Planned Parenthood.
President Obama recently took action against these statewide attacks on Planned Parenthood. In December, his administration passed a new rule amending the regulations for Title X so as to prohibit states from restricting funds to an organization "for reasons other than its ability to provide Title X services" — namely, because it performs abortions.
Though the regulation is a victory for Planned Parenthood advocates, it's hard to say what its future will be in the incoming Trump-Pence administration. But one thing's clear: Planned Parenthood isn't going down without a fight.
"We will not back down, and we will continue to fight for our patients' access to care," Planned Parenthood President Cecile Richards said in a statement. "Every person deserves the right to control their own bodies, their own health and their own well-being without politicians getting in the way."