15 slow cooker recipes easy, cheesy and tasty enough to win Super Bowl Sunday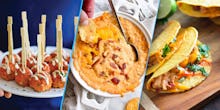 The players on the field may be quick, but there's no reason you have to rush your Super Bowl cooking. 
Make it a lazy Sunday with slow cooker recipes that pretty much cook themselves and stay hot for whenever your pregame company rolls in. Just be sure to have a second slow cooker on plugged in for halftime — you'll want a second round of recipes when the third quarter munchies hit. 
Wings
Slow cooker sticky chicken wings
The Super Bowl is all about chicken wings, but you don't need to fry them for to make flavorful finger food. This no-fuss slow cooker recipe will make your wings sweet and sticky and, yes, finger-licking good. Get the recipe here. 
Crock-Pot chicken wings
If you're not into the sweet wings, these creole and barbecue flavored wings bring on the spice. Get the recipe here. 
Balls & Apps 
Slow cooker buffalo chicken meatballs
These ground chicken balls, a slow cooker alternative to boneless wings, get in all the buffalo and blue cheese flavor you're craving, without the chicken wing mess. Get the recipe here. 
Healthy Crock-Pot mini turkey quinoa meatballs
Game day food doesn't have to be totally bad for you. These Italian-style meatballs make a great appetizer and even sneak in a little quinoa for your meaty feast. Get the recipe here. 
Slow cooker little smokies
These tiny hot dogs cooked in a flawless combination of beer, barbecue sauce and brown sugar add some sweet meatiness to any Super Bowl celebration. Get the recipe here. 
Dips
Slow cooker bacon beer cheese dip
Have you ever heard of anything more football-appropriate than bacon beer cheese dip? No, you haven't. It takes a few hours to melt in the slow cooker, but will be gone minutes after you unveil this gooey, smoky creation. Get the recipe here. 
Slow cooker pulled pork and chorizo sausage dip
A few simple grocery store ingredients mixed in a slow cooker make this melty restaurant-style dip. Get the recipe here. 
Chili
Queso Crock-Pot chicken chili with roasted corn and jalapeño
Not only is chili a crowd pleaser, this cheesy, charred corn chili will secure your win as a Super Bowl host. Get the recipe here.
Game day beer chili
If your crew craves a heartier chili, go for this beef and beer rendition to be topped with cheese and chips. Get the recipe here. 
Crock-Pot turkey chili
If you want to lighten up your Sunday chili a bit, use ground turkey! Consider the leaner meat a compromise for all the cheese you'll want to grate on top. Get the recipe here. 
Tacos 
Slow cooker chicken tacos
Slow-cooked chicken is juicy, tender and ready to be stuffed into a crispy shell with plenty of cheese and hot sauce. Get the recipe here. 
Instant Pot pork carnitas
Make tacos, nachos, burritos and more with these easy-to-make tender carnitas. Get the recipe here. 
Etc.
Slow cooker baked beans with ham
Serve these hearty slow-cooked baked beans over sweet potatoes for a fun and satisfying mid-game snack. Get the recipe here. 
Slow cooker grape jelly ribs
If there's one day of the year that's designated to eat sweet meats, Super Bowl Sunday is it. Get the recipe here. 
Decadent slow cooker hot chocolate
When the beers run out, or you just need to switch up your beverage for something sweeter, have this creamy hot chocolate stewing in the slow cooker. Whiskey on the side is welcome. Get the recipe here.