16 chicken wing recipes to feed your Super Bowl crowd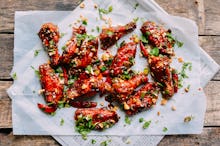 National Chicken Wing Day may be in July, but chicken wing aficionados know this day really comes on Super Bowl Sunday. 
The unofficial (but really, official) finger food to eat while huddled around the television, chicken wings are perfect for feeding a crowd who's watching the Super Bowl. Or not watching, because they're so focused on the wings. Whip up a few recipes for variation, and be sure to score a wing-flavored touchdown with all your game-day guests. 
Baked honey-sriracha wings 
These sweet and spicy wings calm all cravings and are deep-fryer free. Get the recipe here. 
Baked apple-butter brown-sugar wings
For chicken that tastes like dessert (what's not to like?!), these baked wings are your key to fourth-quarter bliss. Get the recipe here. 
Buttermilk fried chicken wings
Fried chicken fans will love these crispy wings that have a serious meat-to-breading ratio. Get the recipe here. 
Sweet and sour Thai oven-baked chicken wings
If you're looking for some Thai-style wings, sans bones, this recipe is your new go-to. Get the recipe here. 
Hot wings
These skillet-crisp spicy wings pretty much require a sip of beer after each bite, which is a good thing, of course. Get the recipe here. 
Pan-fried fish-sauce chicken wings
Blistered shishito peppers add some greenery to a meat-heavy day, plus they bring out the spiciness in the wings. Get the recipe here. 
Tabasco-brined spicy drumsticks
If you're more about the dips than the sauce, these brined drumsticks are your dream wing — and they're less messy! White-couch owners, take note. Get the recipe here. 
Buffalo chicken drumsticks
This gourmet riff on the classic uses blackening seasoning for a greater depth of flavor. Get the recipe here. 
General Tso's chicken wings
If Sunday night is Chinese takeout night, take the flavors, make some white rice and whip up these wings. Get the recipe here. 
Kung Pao chicken wings
For more Chinese flavors and bright, spicy notes with a solid crunch in each bite, make these peanut-dusted Kung Pao wings. Get the recipe here. 
Spicy fried chicken wings
These wings are HOT — in the best way possible, of course. Those accustomed to takeout wings will love this homemade recipe. Get the recipe here. 
Honey-mustard chicken wings
If honey mustard is your preferred chicken-tender dip, try coating your chicken wings in honey mustard. Get the recipe here. 
Hanoi-inspired fried chicken wings
Inspired by chicken feet in the streets of Vietnam, these fish sauce and Sambal Oelek-coated wings are sure to please the adventurous eater. Get the recipe here. 
Skinny BBQ baked chicken wings
For the health conscious, these skinny wings will alleviate any guilt about eating several dozen for dinner. And dessert. Get the recipe here. 
Garlic-Parmesan grilled chicken wings
On game day, there's no such thing as too much of a good thing, and there ain't no thing like cheese on a chicken wing. Make a lot. Get the recipe here. 
Asian BBQ wings
These lightly marinated and grilled chicken wings are super flavorful and not intimidating to make. Get the recipe here.