'The Good Fight' trailer: 7 things that make us most excited for the 'Good Wife' spinoff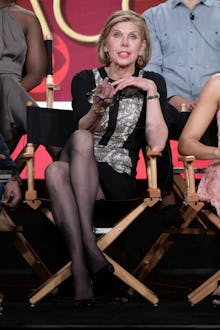 Brace yourself, The Good Wife fans: We're in for a Good Fight.
The first trailer for CBS All Access' new Good Wife spinoff, appropriately titled The Good Fight, debuted Monday at the Television Critics Association winter tour. The uncensored clip, released onto The Good Wife's YouTube account, is full of delicious gems about the series which stars Christine Baranski as Diane Lockhart and Game of Thrones' Rose Leslie as her goddaughter Maia.
Here are a few of the trailer's best moments that have us eagerly awaiting the new series.
Diane says "fuck"
Let's not dilly-dally here: The best part of this trailer is hearing acclaimed thespian Christine Baranski drop a big ol' F-bomb. She's reacting to losing all her money in a Ponzi scheme led by her friend, Henry, who is also Maia's father. Her and Maia's relationship is the core of The Good Fight, so to start with Henry's arrest both puts strain on the two women's connection and forces them to band together to survive. "Fuck" indeed, Diane.
Lucca's reintroduction
Lucca Quinn, as played by Cush Jumbo, was one of the most interesting additions to The Good Wife universe in its final season. She served as protagonist Alicia Florrick's partner and best friend — leading to a scene in the original series' finale where Lucca betrayed Diane in a major, ugly way.
A year has passed since then in Good time, and Lucca is now at another firm. Her reintroduction doesn't tell us what happened between her and Diane after Alicia's presumed departure from the firm, but it speaks volumes nonetheless. "Lucca," Diane says, surprised. "Hello, Ms. Lockhart," Lucca responds coolly. We can't wait to see more of both Lucca and Jumbo.
The cinematography
The production value has improved in a major way for this show versus The Good Wife. The cinematography looks cinematic in a way that even the best episodes of the original series couldn't achieve. Now, The Good Fight looks as rich as Diane was before losing everything!
A peek at Bernadette Peters
Bernadette Peters is the latest great theater star to become part of the Good universe. Her role as Maia's mother and the wife of her Madoff-esque husband promises we'll be seeing at least a good bit of the beloved actress.
This man's butt
The Good Butt, a new drama we wish was coming to CBS this fall. The butt belongs to Lucca's special friend, played by One Life to Live alum David A. Gregory. (He has an Instagram we would recommend perusing.)
Lucca's reference to Alicia Florrick
The only reference to Alicia Florrick comes when Lucca talks to Maia about weathering reports of her sex tape. "I had a friend," she says, never referring to Alicia by name but clearly referencing her public humiliation after her husband Peter was found cheating with prostitutes. "She went through the same thing. Said it was hell for a few months. Harden yourself. Forget what people say. It's hard, but it ends."
The whole damn thing
Truly, this trailer is a gift. It promises a sleeker, darker, sharper version of the world we were introduced to in The Good Wife. Released from the constraints of network TV, Diane Lockhart and her cohort seem to be living it up. We can't wait to see what the full show holds.
Watch the full, uncensored trailer ahead of The Good Fight's Feb. 19 premiere below.