Protesters bring printed definition of sexual assault to Jeff Sessions' office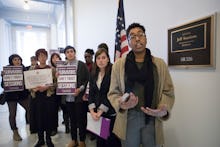 Sen. Jeff Sessions' history of racism and sexism has protesters knocking on his door ahead of his confirmation hearings for attorney general.
On Monday, a group of sexual assault survivors gathered outside Sessions' office with a helpful message for the senator written on one of their signs: the definition of sexual assault.
Under ordinary circumstances, such an elementary reminder would be unnecessary. However, given Sessions' response to President-elect Donald Trump's "grab them by the pussy" comments, the protesters' refresher becomes essential.
"I don't characterize that as sexual assault," Sessions said in an October interview with the Weekly Standard. "I think that's a stretch. I don't know what he meant." 
Sessions later told Mic the outlet had "misrepresented" his views, and affirmed his belief that "assault is unacceptable." He added, "I would never intentionally suggest otherwise."
Intention hardly mattered to protesters concerned that a man nominated to hold the highest position in the Department of Justice would be fuzzy on the department's own definition of assault. 
"We do not trust Sen. Jeff Sessions to tackle the epidemic of rape," Sophie, identified only by her first name, told Huffington Post. "If Jeff Sessions doesn't know the definition of sexual assault, he should withdraw his name from nomination."
Monday's protest is just the latest in mounting efforts to block Sessions from confirmation. 
The NAACP occupied Sessions' office on Tuesday, specifically protesting Sessions for allegedly joking about the Ku Klux Klan, saying he thought the members were "OK until he learned that they smoked marijuana." NAACP President Cornell Wm. Brooks pledged that he and his colleagues would remain in Sessions' office until he withdrew his nomination or until they were arrested. 
The latter came true: Authorities arrested the six NAACP protesters the following morning.
"As a matter of conscience and conviction, we can neither be mute nor mumble our opposition to Sen. Jefferson Beauregard Sessions becoming attorney general of the United States," Brooks said in a statement.
Surely, Sessions has heard the opposition by now. The National Task Force to End Sexual and Domestic Violence published an open letter to the senator on Wednesday, voicing similar concerns about Sessions' statements on sexual assault.
"Any candidate for Attorney General of the United States, particularly a former U.S. Attorney, should possess a thorough understanding of the legal definition of sexual assault ... " the letter reads. 
"Senator Sessions' cavalier statement about sexual assault leaves us fearful that he will not vigorously prosecute sexual assault crimes, a practice unbefitting of the nation's chief law enforcement officer."