Obama's Farewell Speech: Time, channel, how to watch and what to expect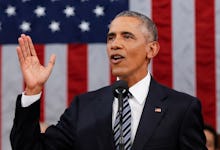 United States presidents have been giving farewell addresses to their constituents since George Washington. 
And, whether you like it or not, President Barack Obama will be giving his on Tuesday. Here's what you need to know about the event:
The low down 
President Barack Obama's farewell address will take place on Jan. 10 in his hometown of Chicago, an event expected to draw huge crowds, as thousands waited in line in the freezing cold on Saturday in order to secure tickets. If you don't happen to be in Chicago, though, there are plenty of ways to watch the speech.
As is tradition, Obama will take the podium at prime time, ensuring the maximum viewing audience. The White House estimates the president will speak around at 9 p.m. Eastern.
You can usually catch a broadcast of the entire speech live on all the cable news networks, including CNN, MSNBC, CSPAN and Fox News. Additionally, many of the major networks will preempt their regularly schedule programs to air the speech as well, including ABC, FOX, NBC and CBS. Whitehouse.gov will also livestream the speech.
What to expect 
According to whitehouse.gov, the speech allows the outgoing president to be able to "share both their reflections on their time in office and their outlook on the future of our country." 
Salon's Paul Rosenberg cited many farewell speeches in a story in which outgoing presidents discussed their concerns and their optimism for the future of the country. It is also common, according to the article, for outgoing presidents to warn Americans against the issues that could derail us as a nation.
The speech is also meant to be a reflection on the outgoing president's tenure in office. The White House has announced Obama intends to thank his supporters and look back on the ways his administration has shaped the country.