Here are the senators to watch during Trump's Cabinet hearings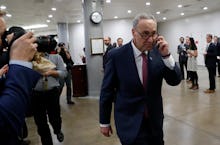 Confirmation hearings for Donald Trump's Cabinet nominees kick off this week and the president-elect is predicting "they'll all pass."
But Democrats, who have decried members of Trump's proposed Cabinet as racist, unqualified and bearing troubling ties to Russia, want to delay the nomination process so they can adequately vet each candidate. They also plan to strongly oppose several of the nominees, including Sen. Jeff Sessions, Trump's pick for attorney general. 
Here are the senators who will likely be key players during the confirmation process:
Cory Booker
Along with Reps. John Lewis and Cedric Richmond, Booker is pushing to testify at Sessions' confirmation hearing on behalf of the Congressional Black Caucus. Sessions has a long history of racism and was once denied a federal judgeship over comments he made describing the NAACP as "un-American."
Booker has criticized the Republican party for attempting to push through Trump's nominees without proper vetting.
"We have a tradition in this country — we literally have a law, Ethics in Government Act — that puts specific requirements on transparency that are not being supported by [Senate Majority Leader] Mitch McConnell right now," Booker said Sunday on Face the Nation. "This is not a Republican or Democrat thing. This is about national security and knowing the conflicts of people that are going to have to deal with other countries and negotiate with them."
Chuck Schumer
Schumer, incoming Democratic Senate leader, has been a vocal critic of the president-elect and promised in an All Things Considered interview to "hold Donald Trump's feet to the fire."
On Monday, Schumer again pressed Republicans to slow down the hearing schedule, saying the nominees needed greater vetting.
"Jamming all these hearings into one or two days, making members run from committee to committee, makes no sense," Schumer said. "It is only fair that they are given a thorough and thoughtful vetting."
Elizabeth Warren
In a letter over the weekend, the Office of Government Ethics warned it had not completed its screening process for several Trump nominees.
Elizabeth Warren, the liberal firebrand from Massachusetts who has spoken freely — and often — about her disapproval of Trump, said hearings should not happen until the office finishes reviewing the Cabinet picks.
Marco Rubio
The former Republican presidential candidate, who endorsed Trump despite the president-elect mocking him as "Little Marco," may play an important role in Rex Tillerson's confirmation hearing for secretary of state.
Rubio has been skeptical of Tillerson's ties with Russia. In December, he tweeted that being a "'friend of Vladimir' is not an attribute I am hoping for" from a secretary of state. 
According to USA Today, Rubio could single-handedly block Tillerson's nomination. Trump allies like Dick Cheney have attempted to sell Rubio on Tillerson and the Florida senator has said he looks forward to "learning more about [Tillerson's] record and his views."
Republican Sens. John McCain and Lindsey Graham have also expressed concerns about Tillerson, the Washington Post reported.
Mitch McConnell
The Senate Majority Leader told Democrats to "grow up" and approve Trump's nominees during an appearance on Face the Nation Sunday.
McConnell said concerns raised by the ethics office over the speed of the confirmations were "procedural complaints" stemming from Democrats' "frustration at having not only lost the White House, but having lost the Senate."
In 2009, McConnell demanded ethics screenings be "complete" and senators be given "time to review" the vetting before President Barack Obama's nominees received approval.
And on Monday, Sen. Chuck Schumer gave McConnell a letter identical to the one McConnell had sent then-Majority Leader Harry Reid in 2009.