This pro-life group plans on crashing the Women's March on Washington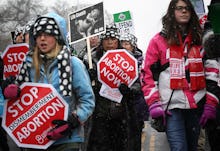 The Women's March on Washington could be one of the largest protest actions in inauguration history, bringing together a diverse coalition of women of color, workers' organizations, LGBTQ people and their allies.
Now, anti-abortion activists are organizing to join in — no matter how they'll be received.
Students for Life of America, an anti-abortion activist organization, is planning on joining the Women's March. And they're expecting confrontations with those who say "women's rights are human rights" — which is actually the organizers' main message — and that those rights include access to adequate health care and birth control.
"We will not sit by as Planned Parenthood, our nation's abortion Goliath and a sponsor of this march, betrays women into thinking abortion is their only choice," the Facebook page for the Students for Life of America event proclaims.
SFLA president Kristan Hawkins initially reached out to the Women's March to see about becoming a partner in the protest. Nearly 150 women's rights groups and coalitions are listed on the site as partners and, although organizers told Hawkins that the SFLA should come join the march, she heard nothing back about being a partner.
"It still says all are welcome, so we don't plan to counterprotest, we plan to march," Hawkins said in an interview. "It's a march against violence, and inclusive of all women and human beings. And we stand against violence."
Though the Women's March on Washington doesn't denounce President-elect Donald Trump by name, the march's stated values explicitly denounce the threateningly sexist, racist and xenophobic language used on the campaign trail. What's more, the march was conceived as a reaction to Trump's election. Trump has repeatedly come out against abortion, and believes that Planned Parenthood should be defunded.
But Hawkins, who was a member of Trump's Pro-Life Advisory Council, insists that SFLA's presence at the march won't be to promote Trump. She acknowledges that many of her members didn't vote for Trump at all. Instead, Hawkins says the pro-life movement contains multitudes. 
"We're not anti-Trump," Hawkins said. "Our message to our members was just to vote for the pro-life candidate. The point is that the millennial pro-life movement is diverse."
In her estimation, millennials are a pro-life generation. That claim is tenuous, at best. The majority of U.S. adults believe abortion should be legal in all or most cases, according to Pew Research Center, and even the statistics that Hawkins and the SFLA point to as evidence that millennials are pro-life still show that millennials largely identify as pro-choice, even if most millennials believe in tough restrictions on abortion.
Hawkins does, however, expect some confrontation, adding that SFLA students are taught how to remain nonviolent in the face of counterprotest.
"Any time we're at any event where we could be outnumbered, there's pushing, shoving, spitting," Hawkins said. "But principle No. 1 of the Women's March is nonviolence."
The real demonstration for the Students for Life of America and its allies happens the next weekend, when pro-life groups will converge on Washington D.C. for their yearly march.
Mic reached out to the Women's March on Washington for comment, and will update if we hear back.