Next 'Overwatch' Update: New character voice lines fuel rumors of a Mercy/Genji romance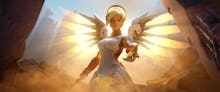 If new voice lines that the Overwatch community say they've found in the current build of the public test realm — y'know, the one that nerfs Ana, D.Va and Roadhog — are any indication, Genji and Mercy are on their way to becoming Overwatch's hottest new couple. Sorry, Pharmercy shippers.
Next Overwatch Update: New voice lines hint at romance between characters.
According to a post on the Overwatch subreddit by akhanubis, there are lots of new voice lines hidden inside the latest PTR update, the most interesting of which shed light on a potentially romantic relationship between Mercy and Genji. Both involve the tried-and-true precursor to serious romance: the exchange of chocolate.
"I got you some chocolates, Genji," Mercy says in their first exchange. "Swiss! They're the best."
"Thank you, Angela" Genji answers. "Perhaps you could share them with me?"
In a second interaction, the exchange is flipped.
"Angela, I have some chocolates for you," Genji says. "Not Swiss."
"I suppose it will have to do," Mercy sighs wistfully in response. "Thank you, Genji."
Is it getting warm in here?
Notably, this exchange only furthers the fandom rumors of a Mercy/Genji romance that were sparked by the most recent Overwatch comic — the one that also revealed Tracer has a girlfriend named Emily.
In the final section of the comic, you can see how the other members of the Overwatch roster are celebrating the holidays. Notably, the first and last panels show Genji and Mercy. In the first panel, Genji is writing a letter, and in the last, Mercy seems to be reading it. Could it be a profession of his love? The fandom certainly seems to think it's possible, according to Polygon.
Next Overwatch Event: So, will there be a Valentine's Day event?
As some commenters noted, this chocolate-centric exchange seems fitting for a potential Valentine's Day-themed event, but Overwatch director Jeff Kaplan already squashed that possibility on the Overwatch forums awhile back.
"We are *NOT* planning a Valentine's or Easter event," Kaplan said in late December.
It's more likely that these are simply exchanges the characters will say in the spawn room before a match around Valentine's Day, much like the New Year's-themed voice lines characters say in the current build of the game. Other Valentine's Day voice lines are sure to pop up in the coming weeks.
More Overwatch news, updates, tips and tricks
For more on Overwatch, check out the rest of what Mic has to offer. Here is a full explanation of the different types of health in Overwatch, the latest rumor of a Terry Crews-voiced Overwatch character, an update on that Mei ice wall exploit, hilarious video of a play of the game involving the jump pad on Oasis, a roundup of the best Overwatch plays of the week, our definitive ranking of every Overwatch hero and a giant Overwatch FAQ for beginners.