Warwick Update: 'League of Legends' teaser video shows the reworked character in action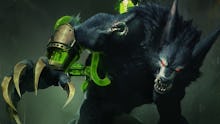 Last week, we reported on an upcoming Warwick update in League of Legends. Now, we're learning even more about the reworked character thanks to a video teaser released on Monday by the official League of Legends YouTube account.
Warwick Update: League of Legends releases new teaser video
If you haven't seen the video yet, check it out below before we dig into what its contents might mean.
Warwick Update: Everything we know so far
The video doesn't reveal much, but it definitely has us excited for the reworked Warwick. The wolfman now appears to sport some bio-engineered enhancements. That's also confirmed in a brief description of the video, which reveals that "in Zaun's Gray-filled streets, the criminal underworld is hunted by an engineered beast."
Based on an earlier developer blog post, we also know that the Warwick update aims to make him a more powerful character. The wolfman is considered to be a beginner-friendly option for learning how to play as a "jungler" — one of several possible positions in League of Legends. This update should make him even more effective in that role.
Beyond the new design, it's still unclear exactly how Warwick will change once the update hits, but, hopefully, we'll learn more soon.
More gaming news and updates
While you wait for more news on Warwick, you might as well check out Mic's gaming guides on how to get started with Pokémon Go data, the latest Overwatch changes, how to become a real estate magnate in GTA Online and the latest info on the new Nintendo Switch console.