Jewish groups across the US receive bomb threats, forcing evacuations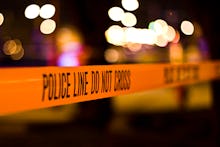 Numerous Jewish community centers on the east coast received anonymous bomb threats via phone on Monday, forcing evacuations and police responses.
According to the Jewish Telegraphic Agency, the Secure Community Network, a group that works to coordinate security efforts in the Jewish community with the Jewish Federations of North America, some of the calls were prerecorded while others were live, and likely came from the same telephone number. NBC reported threats were made to facilities as far apart as New Jersey, Florida, Maryland, Tennessee and South Carolina. In a statement, the Anti-Defamation League said threats were also received in Delaware.
Facilities across the county were evacuated, and authorities did not discover any explosive devices. Jewish schools in London also received bomb threats, though it was not clear whether the incidents are connected.
"In the Northeast it's 20 degrees outside and these individuals are doing everything they can to disrupt who we are and what we do," SCN's Paul Goldenberg told the JTA.
According to ADL associate director of law enforcement outreach and communal security Elise M. Jarvis, the total number of threats is unclear, but the ADL had confirmed roughly a dozen.
Following bomb threats "in the U.S. so far nothing has turned up, and they appear to not be credible," Jarvis told Mic. "They need to be taken extremely seriously, [but] at the same time these are most often a tactic used to disrupt operations and scare the community."
The Southern Poverty Law Center, a nonprofit which tracks hate groups throughout the country, believes there is a link between a recorded rise in hate crimes and threats against minority groups following the Nov. 8 presidential elections and the ascent of President-elect Donald Trump. Trump struck a racially hostile tone throughout the campaign season, and on several occasions, passed on falsified neo-Nazi statistics or anti-Semitic memes using his Twitter account. One of his chief advisers, former Breitbart chief executive Stephen Bannon, bragged about ties between his site and the white nationalist alt-right, and has been accused of anti-Semitism.