'Final Fantasy 15' Updates and DLC: Video shows huge, unused areas hidden behind a glitch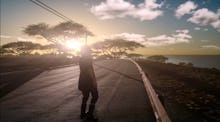 Most people know the development for Final Fantasy 15 was a long, difficult process marred by serious retooling along the way. As it turns out, some huge, unused areas of the game seem to still be hiding in spaces that can only be accessed by exploiting a glitch or two. If we're lucky, these areas might become officially playable in future Final Fantasy 15 updates.
Final Fantasy 15 Updates: Huge areas discovered through glitches
In an hour-long video uploaded to YouTube by Fotm Hero, you can see several empty locations that never appear in the main course of the game. These unused areas include an African savannah-like biome near Cartanica, a snowy area called Eusciello and extended areas of Tenebrae.
Of course, as Kotaku noted, it's possible these areas were never intended to be fully fleshed-out and were simply designed as visual backdrops for other scenes, like the late-game sequences on the train.
Final Fantasy 15 Updates: Will these unused areas be accessible through future DLC?
After posting the above video on Reddit, Fotm Hero said one of the hidden areas they found had been updated with patch 1.03. If that's true, it's possible Square Enix is still tinkering with these areas and might incorporate them further down the road in one of its many planned downloadable expansions. For now, though, that's nothing more than speculation.
More Final Fantasy 15 news, updates, tips and tricks
Hungry for more Final Fantasy 15 coverage? Here's a roundup of the most mouthwatering food from Final Fantasy 15, a big list of tips and tricks, a guide to finding all the royal arms, a guide to fishing in Final Fantasy 15, a guide to changing your chocobo's color, a guide to finding a Sturdy Helixhorn, a guide to summoning, a review roundup from all the big gaming outlets, rumors about a PC release and Conan O'Brien's reaction to the game on his show.