Donald Trump's Cabinet: Everything you need to know about his incoming administration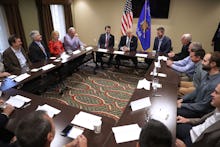 When Donald Trump moves into 1600 Pennsylvania Avenue later this month, it won't just be him gaining some serious power. A whole host of other official will be joining Trump as part of his Cabinet — provided their various controversies don't derail them during Senate confirmation hearings, which started this week. Here's a look at some of the men and women who will likely be policy heavyweights in the Trump administration.
Secretary of State: Rex Tillerson
Secretary of State is arguably the most prestigious position in the federal government outside of the presidency. It has been held by luminaries like Thomas Jefferson, Henry Clay and Hillary Clinton. Trump's pick of Rex Tillerson, a lifelong ExxonMobile employee, is more than a bit outside the box. Tillerson has no previous government experience, and his ties to Russia are troubling to many on both sides of the aisle.
Secretary of the Treasury: Steve Mnuchin
The biggest controversy for Mnuchin is a familiar one for Washington: he's very connected to Wall Street, runs a hedge fund and once worked at Goldman Sachs — high finance, basically, but with an especially nasty history. While Wall Street executives coming to Washington isn't new, it goes against Trump's "drain the swamp" campaign promise.
Secretary of Defense: James Mattis
Trump's pick to head the Pentagon is nicknamed "Mad Dog," which should tell you something about his reputation. His very selection is controversial, because by law a person has to have been retired from military service for at least seven years to take the job, and Mattis just retired in 2013. Congress will have to pass a waiver to allow him to take the job. Mattis has also courted controversy for his statements about the Arab world.
Attorney General: Jeff Sessions
Jeff Sessions is a Senator from Alabama, and his personality and political persuasion fits the sterotype of an older white guy from the Deep South. He is often considered one of the most conservative members of the chamber. His nomination is especially controversial because of statements he's allegedly made about African-Americans and civil rights, and his opposition to rights for LGBT communities. 
Secretary of the Interior: Ryan Zinke
Trump's choice for the Interior Department is a former Navy SEAL and a congressman from Montana. His biggest controversies come from his stances opposing regulations of drilling and coal extraction and other issues important to environmentalists. President Barack Obama is trying to prevent a Interorior chief like Zinke from drilling in environmentaly sensitive areas, and so is rushing to make a lot of those areas into national monuments.
Secretary of Agriculture: TBA
Trump still hasn't picked someone to lead the Department of Agriculture.
Secretary of Commerce: Wilbur Ross
Ross is another billionaire finance guru, and he was one of Trump's economic advisers during the campaign. He has come under fire for his history of distressed investing, where he took over failing companies to try to right the ship — and often sent jobs out of the U.S. Ross is also, to be frank, insanely wealthy, with a reported net worth of nearly $3 billion.
Secretary of Labor: Andrew Puzder
Puzder is the CEO of CKE Restaurants, which runs fast food chain Carl's Jr. He's come under scrutiny since his nomination for running ads deemed offensive to women and for his opposition to raising the minimum wage, a popular cause among labor activists in recent years. He's also been accused of abusing his wife, which would not be a good thing. And he's complained about being required to give his workers meal breaks.
Secretary of Health and Human Services: Tom Price
Given the current war over the Affordable Care Act, this could be a crucial position. Trump pick Georgia Rep. Tom Price has a stridently anti-abortion record and has been a leading opponent of the Affordable Care Act. He also has a troubling record on reproductive rights, a big concern for abortion rights advocates.
Secretary of Housing and Urban Development: Ben Carson
Carson, the retired neurosurgeon who ran against Trump for the Republican nomination, is an odd choice for this position, mostly because he has no experience in housing or development policy. His other controversial statements – such as his opinion that no Muslim is qualified to be president – could also rear their head at his confirmation. Or maybe there will be a surprise quiz on the history of the Egyptian pyramids. With Carson, the number of strange anecdotes is really only limited by your patience to search for them.
Secretary of Transportation: Elaine Chao
This would be Chao's second time around in a cabinet level position — she served for eight years as secretary of labor under George W. Bush. This, plus the fact that she is married to Senate Majority Leader Mitch McConnell, makes her a much more establishment candidate than some Trump supporters likely want — again, not exactly "draining the swamp."
Secretary of Energy: Rick Perry
Former Texas Governor Rick Perry will take the reins of the Energy Department. Liberals are likely to be upset by the fact that he has an ownership stake in the company that wants the build the controversial Dakota Access Pipeline. Everyone else is probably focusing on the fact that he couldn't remember the name of the Department of Energy in a 2011 Republican primary debate.
Secretary of Education: Betsy DeVos
DeVos, Trump's choice to lead the Department of Education, is notable for being extremely wealthy, with her family having a net worth of $5.1 billion. She and her husband have donated a lot of money to conservative causes, including controversial Christian groups like Focus on the Family. She is also an advocate charter schools, and there is a lot of concern about her commitment to protecting Title IX, a federal anti-discrimination statute.
Secretary of Veterans Affairs: David Shulkin
Trump's choice to lead the VA is currently the Undersecretary of Health David Shulkin. Shulkin is a doctor and served in the Obama administration, making this a rare bi-partisan pick for the incoming Trump team.
Secretary of Homeland Security: John F. Kelly   
Another former general will lead the Department of Homeland Security. This is a rare pick where Trump avoided controversy, selecting the more moderate candidate Kelly over those who wanted to do things like create a registry of Muslim Americans.
U.N. Ambassador: Nikki Haley
When Trump picked Nikki Haley to represent the U.S. at the United Nations, it was seen as a slightly strange choice; after all, the South Carolina governor said she wasn't a fan of Trump during the campaign. Still, with her generally clean record, she should be a fairly easy confirmation.
Head of the Environmental Protection Agency: Scott Pruitt
Selecting Oklahoma Attorney General Scott Pruitt to lead the EPA could be Trump's most controversial choice. The EPA chief is in charge of protecting the environment, after all, and Pruitt does not believe in global warming, and has frequently fought against environmental protection measures.
Pruitt will be the most prominent of a number of climate change-doubters on Trump's team.
Head of the Small Business Administration: Linda McMahon
McMahon, longtime executive with World Wrestling Entertainment and wife of WWE founder Vince McMahon, is most controversial because she donated more than $7 million to Trump's campaign. That's to say nothing of any old wrestling videos that might pop up.