Why Migos' "Bad and Boujee" hitting No. 1 matters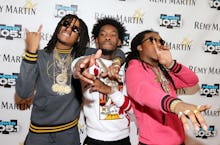 On Sunday, Donald Glover incited a small but necessary revolution onstage at the Golden Globes during his acceptance speech for Atlanta. After thanking the cast and the show's home city, he paid homage to the hip-hop royalty who has helped put the city on the map, shouting out Migos, specifically its song "Bad and Boujee."
"I really want to thank the Migos, not for being in the show, but for making 'Bad and Boujee,'" he said. "Like, that's the best song ever."
The next morning, the power of that co-sign became immediately clear: The song started exploding on streaming services. Billboard reported that the song's Spotify streams increased 243% between 7 a.m. and 9 a.m. Monday, and it's jumped 10 million plays on YouTube since Sunday evening. It was enough to get the song over the last hurdle to earn it a permanent position in music's history books, where it belongs.
Migos is No. 1 on the pop charts, its very first chart-topping record, an accolade it has deserved to occupy for years. Astoundingly, it's also legendary producer Metro Boomin's first No. 1 as well. Both artists have had to watch handfuls of other artists summit, using some of the innovations they helped introduce into hip-hop's current wave.
Raindrop. Drop top. Justice has been served on the pop charts.
Why this is a big deal
During a backstage interview Glover elaborated on why he decided to use his precious seconds at the podium to talk about Migos' club banger. "I think they're the Beatles of this generation and I don't think they get a lot of respect beyond Atlanta," he said, according to Vulture. 
He's right to a certain extent. Migos has been releasing Atlanta trap gold since 2011, but the style it has pushed has traveled farther than its name. Its first major hit "Versace," a lyrically bare-boned, bouncing luxury rap, which benefited from a Drake co-sign, set a new standard for what trap sounds like. The same could be said for Metro Boomin's work, which has gone a long way in helping Future establish his woozy, wobbling sound.
Borrowing these elements, Fetty Wap, Rae Sremmurd and Desiigner all managed to sneak chart-decimating songs, before Migos or Metro Boomin. Consider the feeding frenzy that hip-hop is and how normalized biting has become, it's not every day one gets to see originators reap the success they're owed. This is a rare moment.
Migos is no one-hit wonder
The rise of "Bad and Boujee" has also confirmed another truth to be self-evident: Migos is definitely not the one-hit wonder many tried to write it as back in 2013. Its 2014 tracks "Fight Night" and "Handsome and Wealthy," definitely started to undo that impression, but they didn't exactly suggest we were seeing the rise of an Atlanta institution. 
The success of "Bad and Boujee" may finally silence that question. All the tracks Migos has released off its forthcoming Culture have been on point. The group chemistry has gotten better, with Migos' two less omnipresent members, Offset and Takeoff, grabbing some of the standout moments. Offset of course spits the most iconic line off "Bad and Boujee" — "Raindrop, drop top," which has produced months of grade A meme work.
Migos' win also proves that the meme is now a must-have in the hip-hop promotions game. The song was already scrapping its way to the top of the charts, long before Donald Glover helped it get that last little bump, on the strength of those bite-sized viral promotions. 
Writing with your memes in mind actually seems an excellent way to conceptualize hip-hop songwriting. Pop music has long understood the lift that simple, torturously scrutinized ear worm moments can offer a song's longevity. Hip-hop may be coming to that same revelation through a different path. What it suggests though is we may be seeing renewed attention paid to melody and craft in hip-hop, to ensure each moment is doing the work of 10. 
If it produces more fire like "Bad and Boujee" and artists committed to starting trends rather than lazily copping others', we all win. And we'll have Migos, in large part, to thank.