Twitter suspended Martin Shkreli — but his legacy of abusing women online lives on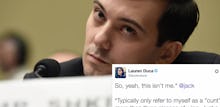 Chop off one of the many heads of the serpent Hydra and another will grow back. Silence a bully on Twitter and an army of trolls will flood your mentions with porn, memes, threats and abuse. 
Case in point: On Sunday, Twitter suspended Martin Shkreli, the "most hated man on the internet," for targeting journalist Lauren Duca — the author of Teen Vogue's viral essay on Donald Trump — with a particularly creepy form of harassment. 
Last week, Shkreli messaged Duca with an invitation to be his plus-one at Trump's inauguration, and she responded with a tweet saying "I would rather eat my own organs" and a screenshot of his DM attached. 
The notorious "Pharma Bro" and internet troll — he's harassed female journalists before — responded by crafting a collage of photos of Duca and making it his Twitter header. 
"For better or worse, 'til death do us part, I love you with every single beat of my heart," the image said. Shkreli also digitally altered his face onto the body of Duca's husband and made it his avatar. According to the Guardian, Shkreli claimed Duca disrespected "the sovereignty of [his] love."
Shkreli's account was removed shortly after.
Duca told BuzzFeed on Sunday that Shkreli had been harassing her "for a while. "It's an ongoing thing. He's been actively tweeting about dating me. ... I don't know if he's encouraging people to do this, but there's been a small contingent of trolls telling me to sleep with him — but not that politely."
After Shkreli was suspended from Twitter, his supporters seemed even more resolute in sexualizing, intimidating and harassing Duca on the social media site. They continued what Shkreli started, barraging her with threats, taunts, sexualized images of Duca and other forms of abuse. According to Duca, they pledged to release her "nudes" and created accounts impersonating her — a method of trolling that violates Twitter's terms of service.
This type of trolling shows dangerous intent: Harassment like what Duca faces is a way to intimidate and control a victim, said Nicole Amesbury, psychotherapist and head of clinical development at Talkspace. Amesbury noted that for people who work in journalism and media, reputation is important — so when a troll co-opts your face and name to mock you, you've lost control over your image.
"It's a real insidious kind of controlling, manipulating, eerie thing," Amesbury said. She added that because the images Shkreli used of Duca were somewhat normal, ones you might find on her public social media pages, "it's like saying, you know what, we can make you. There's a part of you that we can control."
This type of harassment is on Twitter's radar. When Mic emailed Twitter about "users creating profile and header images using someone else's photos without their knowledge," a spokesperson was ready with "our Shkreli statement," as follows:
"The Twitter rules prohibit targeted harassment, and we will take action on accounts violating these policies."
They continued what Shkreli started, barraging her with threats, taunts, sexualized images of Duca and other forms of abuse. According to Duca, they pledged to release her "nudes" and created accounts impersonating her.
With no mention of Shkreli or Duca's name in Mic's email to Twitter, the company still identified Shkreli as the source of this type of harassment. That's because one man's troubling abuse swells to more disturbing proportions when he has legions of followers. Amesbury referred to it as "mob mentality" — it's the method right-wing celebrity troll Milo Yiannopoulos used to target actress and comedian Leslie Jones before he himself was banned from Twitter. He dog-whistled his horde of trolls and encouraged them to do the dirty work.
"If the authority figure is condoning it in any way, it gives some kind of permission for all of those followers or supporters to do the same thing," Amesbury said. "It's creating that group norm — [that] it's all right to behave this way, it's OK to treat people this way. And so they rally together."
Shkreli's infamy didn't just land him headlines — it earned him followers. Shkreli became famous for spiking the price of an HIV drug, but his troll tactics — like screaming at Hillary Clinton with false rumors about her health — have earned him respect among the group of pro-Trump white-nationalist internet goons who call themselves the "alt-right." 
At the time Duca pointed out the harassment to Twitter CEO Jack Dorsey, Shkreli had 192,000 followers. Amesbury said it's easy for followers or supporters "to feel comfortable being harassing or abusive under that kind of umbrella of that person's power."
By the time Shkreli's online abuse warranted a suspension, it was too late: He had amassed an army of avatars hell-bent on sustaining his smear campaign, even in his absence. The hashtag #FreeShkreli emerged as a popular hub for pro-Shkreli and anti-Duca memes, and Duca continues to share snippets of the abusive emails and threatening Twitter activity she's noticed. Virtually every recent tweet of hers contains responses full of NSFW Photoshops and Pepe the Frog image macros. One user even accused her of enabling ISIS.
Shkreli, bafflingly, blamed Duca for leading him on. According to the Daily Caller, Shkreli said, "Had Duca said she is married and that he should leave her alone, there wouldn't have been an issue."
But while it appears Shkreli's trolls have been emboldened by his removal from the platform, Amesbury still sees the suspension as a good move on Twitter's part. She noted the effectiveness in breaking up the group to dismantle its actions, since members are likely meeting online and not in person — it sends a message that Twitter doesn't condone the behaviors of this micro-group.
With Shkreli, as with Yiannopoulos, Twitter succeeded in removing the talking heads of misogynists — but it failed to eradicate the mob filling the void. In Greek mythology, to kill the Hydra, Iolaus had to seal the wound where the head was chopped off to stop another from growing in its place. 
It's not enough to remove the face of a hate movement. The body's still ready to attack.