Rex Tillerson's ExxonMobil did business with state sponsors of terror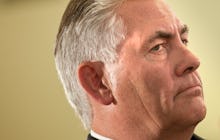 Rex Tillerson, the CEO of energy giant ExxonMobil who Republican President-elect Donald Trump recently picked as his future secretary of state, was in control of the company while a European subsidiary made deals with the sanctioned Iranian government, USA Today reported.
ExxonMobil owned a 50% share in Infineum, a European company which made $53.2 million in sales to Iran in 2003, 2004 and 2005 - during which time the U.S. government was sanctioning Iran as a state sponsor of terrorism. Infineum made $600,000 in sales to Sudan and $1.1 million in sales to Syria, countries also on the state sponsors of terrorism list. The business deals earned ExxonMobil an inquiry from the Securities and Exchange Commission, which asked why it had not disclosed the deals with the proscribed countries to its shareholders.
Tillerson has run ExxonMobil since 2006, but served as a senior executive in the company since 2001, USA Today added.
ExxonMobil argues the sales pale in comparison to the company's annual hundreds of billions of dollars in revenue, and that the sales were legal as no U.S. staff were involved in the Infineum proceeds.
But the issue is likely to come up during Tillerson's confirmation hearings, which begin this week. Of all of Trump's cabinet-level picks, Tillerson seems bound to draw the most scrutiny thanks to his extensive business and personal ties to Russian President Vladimir Putin, with whom the oil executive built a friendly rapport in pursuit of lucrative energy contracts.
Tillerson struck a major deal in 2011 with Russian state oil company OAO Rosneft to exploit Arctic oil reserves, but the deal was later undone by another series of U.S.-backed sanctions over Russia's annexation of Ukraine's Crimea region. Top U.S. intelligence officials now say Putin personally directed cyber attacks against the Democratic National Committee and Hillary Clinton's presidential campaign in an attempt to get Trump elected; the controversy has drawn the ire of top Republicans who say Tillerson's loyalties now need to be vetted before he can be put in charge of the new administration's foreign policy.