ACLU launches extraordinary effort against Trump attorney general nominee Jeff Sessions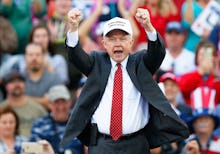 The American Civil Liberties Union is launching an extraordinary effort against Republican President-elect Donald Trump's nominee for attorney general, Alabama Sen. Jeff Sessions, over deeply held concerns the senator will not equally uphold the rights of all Americans under the law.
Over the weekend, in the New York Review of Books, ACLU national legal director David Cole, a constitutional scholar, outlined five tough questions for Sessions because of his views on civil rights and liberties. While the ACLU does not yet formally oppose the controversial senator's confirmation, Cole wrote the vaunted rights group's concerns are grave enough that he will be testifying in Sessions' Senate Judiciary Committee hearings, held on Tuesday and Wednesday, seeking answers to his questions.
In a statement, the ACLU explained its position:
The ACLU is nonpartisan, and as a matter of longstanding policy does not support or oppose nominees for federal office. As a result, the ACLU rarely testifies in confirmation hearings. However, the organization is taking the extraordinary step of testifying in this hearing because Sen. Sessions' record raises significant, serious questions about his hostility to civil rights and civil liberties. The ACLU believes he must satisfactorily answer questions on these issues before a confirmation vote proceeds.  
The nearly 100-year-old rights group's executive director, Anthony Romero, also put together a lengthy web piece outlining questions about Sessions's views on mass incarceration, police reform and militarization, immigration rights, religious liberty for Muslims, LGBT rights, mass surveillance and abortion rights. The piece was accompanied by an exhaustive 55-page ACLU report with specifics on Sessions's record on these issues and others. (Mic reached out to Cole and the ACLU and will update this post when we hear back.)
Sessions' history includes allegations of racist comments which cost him a federal judicial appointment in 1986, abuse of his offices to persecute black voter registration operations, defense of harsh voter ID laws, opposition to LGBTQ rights and labeling Islam a "toxic ideology." The senator has also come under fire for his hardline views on immigration, as well as his opposition to legal abortion and vote against the reauthorization of the Violence Against Women Act in 2013.
As attorney general, Sessions would not only be in charge of the federal law enforcement apparatus, with all the potential abuses of power that entails, but also the federal government's main civil rights enforcement agencies, responsible for launching investigations into abuses. The Department of Justice acts as the main federal oversight of all state and local law enforcement agencies; Sessions would likely leave those agencies to their own devices, rolling back President Barack Obama's efforts to have the agency investigate law enforcement abuse of power.
Sessions would also be one of future President Trump's chief legal advisers, and would be called upon to determine the legality of many policies he may pursue in office.
The ACLU issued early warnings about a potential Trump White House, declaring the morning after the presidential vote: "Should President-elect Donald Trump attempt to implement his unconstitutional campaign promises, we'll see him in court." The group was already raising serious questions about Trump's policy promises in the summer of 2016, calling him a "one-man constitutional crisis."
"When dangerous political ideas threaten liberty and justice," ACLU head Anthony Romero explained in a separate post, "we have a job to do."