Kim Kardashian chauffeur arrested in connection Paris robbery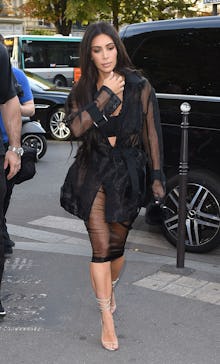 The gunpoint robbery of Kim Kardashian West inside her Parisian hotel room in October is starting to look like an inside job, according to multiple reports.
A driver for a car company often used by the Kardashian family was one of the people arrested Monday in connection to the robbery, according to French newspaper Le Monde, TMZ reported. Authorities believe the driver may have given the robbers — who were dressed like police officers — information on how to access Kardashian West.
Among the items stolen from Kardashian West during the terrifying ordeal, in which she begged for her life, was a $4 million engagement ring recently gifted to her by husband Kanye West. 
Kardashian West recently returned to social media after taking a hiatus following the robbery.