Ronda Rousey alludes to hitting "rock bottom" in JK Rowling-inspired Instagram post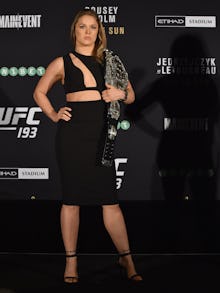 Ronda Rousey has broken her social media silence.
On Monday, the UFC fighter posted a quote on Instagram from author J.K. Rowling: "And so rock bottom became the solid foundation on which I rebuilt my life." 
Rousey had been quiet since releasing a statement following her Dec. 30 fight against Amanda Nunes at UFC 207, which Rousey lost within 48 seconds. At the time, Rousey said she needed to "take some time to reflect and think about the future." 
Talk of retirement had begun to swirl since the fight against Nunes, but Rousey's Instagram post hints that she's not going anywhere.
The quote is a portion of a 2008 commencement address J.K. Rowling gave at Harvard University titled "The Fringe Benefits of Failure, and the Importance of Imagination." In the part of the speech that Rousey references, Rowling discussed how her past failures and hitting "rock bottom" was what prompted her to write Harry Potter:
So why do I talk about the benefits of failure? Simply because failure meant a stripping away of the inessential. I stopped pretending to myself that I was anything other than what I was, and began to direct all my energy into finishing the only work that mattered to me. Had I really succeeded at anything else, I might never have found the determination to succeed in the one arena I believed I truly belonged. I was set free, because my greatest fear had been realised, and I was still alive, and I still had a daughter whom I adored, and I had an old typewriter and a big idea. And so rock bottom became the solid foundation on which I rebuilt my life.
Rousey hasn't announced whether she'll fight again or retire, but she is handling her situation like a champ.