Tom Ford doesn't want Melania Trump wearing his clothes since they're not American-made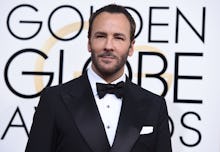 If you watched even just a few minutes of the Golden Globes on Sunday night, you know one of the biggest topics was none other than the impending Trump presidency. 
Not only was it on the mind of women like Meryl Streep, who offered a stirring speech regarding President-elect Donald Trump's offensiveness, but on the minds of men like Tom Ford too, who was one of the many fashion designers who has spoken out against dressing the Trump family during their stint in the White House. 
On the red carpet at the Golden Globes on Sunday, Ford (a nominee for his film Nocturnal Animals) elaborated on his feelings, offering a pretty sensible defense of his opinion that neither Trump, nor her family members, has any business wearing his clothes. 
"Given this president's beliefs about 'made in America' — I think the clothes they wear should be made in America," Ford told Elle. "I think that whoever is the president, or the first lady, should be wearing clothes at a price point that [is] accessible to most Americans, and wearing clothes made in America. My clothes are made in Italy. They're very, very expensive. I don't think most women or men in our country can relate to that, and I think the first lady or the president should represent all people."
Back in November, Ford told The View's co-hosts, "I was asked to dress her quite a few years ago and I declined. She's not necessarily my image." 
While plenty of other designers have been outspoken about their refusal to dress the Trump family, Ford is one of the few who has offered up a clear  — and rather understandable — explanation for why he doesn't want to see Melania Trump or anyone in the Trump family in his clothes. 
Then there's the issue that Ford's clothes are just too expensive to be seen as remotely relatable to the American people, with $12,000 dresses and nearly $3,000 boots.
Though, there's certainly an argument that Trump could wear Ford and still be seen as relatable. Even Michelle Obama, who has been praised for wearing more inexpensive garments throughout her time as first lady, wore a Ford gown at Buckingham Palace in 2011. 
Of course, all this anxiety from designers comes just more than a week before Melania Trump is expected to make a major fashion statement on Inauguration Day. Will she take a risk and go for an American designer who's openly spoken out against the Trump administration? Will she keep it safe and go for an American designer who's largely unbothered by her? Or will she buck all past trends and not go for an American designer at all? 
Guess we'll just have to wait and see about that one.