'Being Mary Jane': Where did season 3 leave off? Recap before season 4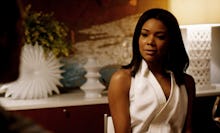 It's been a minute since we've caught up with Mary Jane, but BET's Being Mary Jane returns on Tuesday for its fourth season one year (and one lawsuit) later.
The season three finale of Being Mary Jane left fans breathless. When we last see her, Mary Jane, played by Gabrielle Union, is on a mission to maintain balance in her life but it's proving to be difficult. 
Mary Jane has been feeling the repercussions of being in an interracial relationship after a photo of her and Eddie, her white boyfriend, leaked. In a calculated move, her now-public interracial relationship is a point of conversation on TalkBack, which MJ goes along with. 
The news of her relationship is so explosive that it becomes a topic on The Real. MJ is accused of being a hypocrite and after realizing she may prefer black men, ends up calling things off with Eddie, even after having to defend their relationship on TV.
Her love life isn't her only problem: She sends her frienemy Cece to jail after a set up by the police. In a meeting with who she thought was two book publishers looking to sell her life story, Cece reveals her extortion plot and the undercover cops bust her. 
But the most shocking moment from the finale is when Niecy, Mary Jane's niece, is arrested and assaulted by a white police officer. She is pulled over because her "music is too loud" and resists arrest because she didn't do anything wrong. The cops use a taser on Niecy in front of her child and the entire incident is captured on video. The assault instantly makes headlines everywhere and Mary Jane finds herself at a crossroads about how to cover this very personal story accurately. 
You can catch the season four premiere of Being Mary Jane on BET on Tuesday at 10 p.m. Eastern.