'Twin Peaks' revival release date, cast, returning characters and more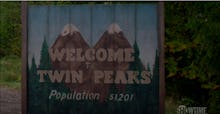 Start your morning with a cup of coffee and some good news about the Twin Peaks revival on Showtime: The series finally has a release date. 
That's the biggest news to come out of the Television Critics Association press tour for Showtime, as Twin Peaks creator David Lynch and Showtime president David Nevins disclosed little else about the series. But Showtime's Twin Peaks will premiere May 21, and the revival will have 18 episodes.
"We've seen the whole thing," Nevins said, according to Entertainment Weekly. "David Lynch is one of the great film masters of my lifetime. I think this is the pure heroin version of David Lynch and I'm excited to put it out." 
If "pure heroin" involves Lynch eating doughnuts on camera as FBI chief Gordon Cole (a "teaser" for the revival), then sign us up. 
Lynch was mum on other details of the show (when asked why the revival cast actress Laura Dern for a new role, he said, "I love Laura Dern"), but it will see the return of several actors from the original series, including Kyle MacLachlan as FBI Agent Dale Cooper and Mädchen Amick as Shelly Johnson. Twin Peaks newcomers — aside from Dern — include Michael Cera, Naomi Watts and Trent Reznor.  
All things considered, it's great to see a Twin Peaks revival to begin with. The revival was first announced in 2014, but issues with contract negotiations and potential clashes between Lynch and Showtime left its future in doubt. 
As for fans hoping to parse through any actual details about the series in the coming months, well, don't get your hopes up. According to Entertainment Weekly, Nevins said the revival would eschew a "traditional trailer," meaning little else about the show will be disclosed ahead of time. Instead, it's more likely we'll be treated to "teasers" in the same vein as the aforementioned Lynch-doughnut-eating and series composer Angelo Badalamenti playing the iconic "Laura Palmer" theme over a forested backdrop. 
The secrecy makes sense, given that the model for the original Twin Peaks feels ripe for exhaustive Reddit breakdowns of each scene, akin to fans of Westworld and Mr. Robot. "It rewards close watching," Nevins said. "It was an original social media discussion show before the tools of fan engagement really existed. That's one reason why David is so particular about secrecy. It will really reward close watching and [piecing] things together over time." 
The Twin Peaks revival premieres Sunday, May 21 at 9 p.m. Eastern on Showtime.