'Letters to a Young Muslim' answers one of the hardest questions for Muslim American youth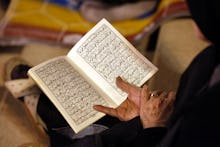 In Letters to a Young Muslim, Omar Saif Ghobash gives advice — specifically to his young sons — about the difficult journey ahead as a young Muslim American today.
In an interview with Minnesota Public Radio, Ghobash discusses how some young Muslims should apply lessons of their faith to everyday life and how they can combat ideas of violence that are often associated with their religion.
"If your friendly cleric tells you that everything has been answered in the texts of our forefathers, you can tell him that you believe that every generation of Muslims should reexamine their faith and their understanding in the terms that they understand," Ghobash, who is the United Arab Emirates' ambassador to Russia, wrote in his book.
While radicalism isn't exclusive to or inherent in the Muslim American population, Ghobash does highlight just how challenging life can be for Muslim youth. Some young Muslim Americans — who've seen bloodshed abroad against those who look like them and widespread demonization of their identity in their home country — migrated to a more violent interpretation of Islam and ended up fighting abroad for ISIS. 
It's a crossroads that Ghobash met very early in life. When Ghobash was 6 years old, a 19-year-old Palestinian, who mistook Ghobash's father for Syria's then-minister, fatally shot his father on the tarmac of an Abu Dhabi airport. While Ghobash said he could never pick up a rifle himself, he said he has come to understand why the gunman would resort to violence.
"As the years passed, I realized that actually this poor young man had absolutely no opportunities," Ghobash said in an interview with NPR. "And in a sense, you know, I feel that my father's killer was himself a victim of the way we do politics in the Arab world."
Ghobash also questions if the traditional interpretations of Islam are "foundational" to growing up Muslim. For example, in certain Muslim households, young girls have limited freedom in comparison to boys. In certain countries, young girls are discouraged from getting a formal education.
"In answering this question, I cannot simply look to traditional texts and strict interpretations of Islam," Ghobash told MPR. "I also need to look at my own personal experience and see what this tells me. Dry rules in dusty books need to make sense in life, and in the light of lived experience."