'Scalebound' Canceled News: Why Platinum Games canned the Xbox One exclusive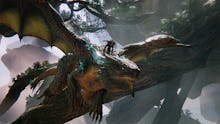 In 2016, we finally got Final Fantasy XV and The Last Guardian, two games that had been delayed and (at times) thought dead for years. Fans waited upwards of a decade to play their most anticipated games and they both ended up being pretty well received. It was the feel-good gaming story of 2016. Unfortunately, the same can't be said for Scalebound, a promised Platinum Games release that was officially cancelled this week.
There will be no redemptive arc for Scalebound, one of the first prominent exclusive games revealed for Xbox One back in 2014. Here is Microsoft's official statement, via Kotaku:
After careful deliberation, Microsoft Studios has come to the decision to end production for 'Scalebound.' We're working hard to deliver an amazing lineup of games to our fans this year, including 'Halo Wars 2,' 'Crackdown 3,' 'State of Decay 2,' 'Sea of Thieves' and other great experiences.
Scalebound canceled: A magnificent slain dragon
Scalebound began development in 2013 and was officially announced at Microsoft's E3 2014 press conference. Its announcement made waves because it was an Xbox One exclusive from Platinum Games, the studio behind eclectic, classic action games like Bayonetta and Vanquish. The project was headed by Bayonetta director Hideki Kamiya, but rather than making another stylish action game, Platinum was venturing into the genre of open-world RPGs.
Set in the vast world of Draconis, you would play as Drew, a headphone-wearing punk teen accompanied by his dragon Thuban. The combat looked familiar to fans of third-person action games, but with the unique hook that you would always have a giant dragon helping you out. Thuban would normally be controlled by AI, but you could issue commands and enter "Dragon Link" mode, giving you direct control. There was a mix of melee and ranged weapons, as well as the ability to ride your dragon around the game's open world.
It also had a four player co-op mode, where each player could bring in their dragons and utilize their different builds to efficiently take down huge bosses. Scalebound's unique aesthetic was a blend of Final Fantasy and Devil May Cry, and the Platinum Games pedigree made it highly sought after. The game was shown again at Gamescom 2015 and as recently as E3 2016, with the gameplay demo below.
Scalebound canceled: Another one bites the dust
Scalebound is another in a distinct group of games that were announced in the early days of the PS4 and Xbox One but have yet to see the light of day. The super-powered open world crime fighting game Crackdown 3 was announced in the same press conference as Scalebound, but hasn't been seen in a while. It's worth noting that Microsoft's statement about the cancellation of Scalebound commits to a 2017 release date for Crackdown 3.
The same goes for Phantom Dust, an Xbox One exclusive that would have acted as a reboot for a cult classic card fighting game for the original Xbox. It was announced in 2014 before being unceremoniously cancelled in 2015. However, this story has a happy ending, as the project rose from the ashes like a glorious phoenix and is back on for a 2017 release.
On the Sony side of things, Capcom's fantasy/sci-fi dungeon crawler Deep Down was revealed alongside the PS4 but has yet to see the light of day. Kotaku has a running series of updates about the game's status, though it hasn't been heard from since late 2014.
It remains to be seen which, if any, early Nintendo Switch games suffer the same troubled fate. Here's to hoping everyone's hard work pays off and we don't have to write articles like this about any of those games.