Protests to continue against UCLA professor accused of sexually assaulting 2 students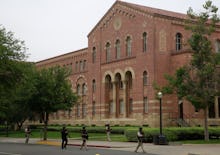 University of California, Los Angeles history professor Gabriel Piterberg has returned to teaching for the first time since allegations that he forcibly stuck his tongue into the mouths of two female students earned him suspension without pay for the Spring 2015 term.
Piterberg's sanctions, though, had seemed all too well-timed: LAist reported that the suspension coincided with his fellowship at the European University Institute from March to May 2015. And while Piterberg was made to pay a $3,000 fine and attend sexual harassment trainings, students were less than thrilled to find the professor back to teaching two upper division history classes on Monday.
They let it show. Students protested Piterberg's first class period back at UCLA — and said they have plans to do it again when he teaches on Wednesday.
According to the Los Angeles Times, students hung a banner at the front of the classroom reading, "Good morning, sexual harasser" and placed info pamphlets at each seat about the allegations against Piterberg. They also wrote on the chalkboard, "If a tenured professor sexually assaults his own students, it's abuse of power." A campus official reportedly removed all signs of protest save for this message.
During the 8 a.m. class, about five students held up signs calling for Piterberg's firing while a hoard of students rallied just outside the room. Twenty minutes into the protests, Piterberg canceled both his classes for the day.
As many as six students dropped his course within that first half hour of the class, according to Chloe Pan, assistant director at Bruin Consent Coalition, a sexual assault education group on campus. She told Mic on Tuesday that students have access to a live schedule of classes through their UCLA accounts, which show the number of students actively enrolled in each course.
Though Piterberg is still teaching his classes — albeit to a seemingly dwindling number of students — as part of his agreement with the university he's been removed from his position as director of UCLA's Center for Near East Studies. And while he's still permitted to meet with students one-on-one in his office, he must do so with the door open. 
But the Bruin Consent Coalition and dozens of other protesters across campus want Piterberg fired.  
"He's a tenured professor," Sophia Arim, also a co-director of the coalition, said Tuesday. "I don't know what the nitty-gritty details are of removing a tenured professor, but there should be a policy that says you will be fired if you commit sexual assault." 
Arim said it's on the history department to find a new professor to take over Piterberg's classes, and the university's responsibility to develop stricter policies to handle professors who violate campus policies.
"I don't know what the nitty-gritty details are of removing a tenured professor, but there should be a policy that says you will be fired if you commit sexual assault." 
In March, the Daily Bruin ran a staff editorial calling for the university to offer Piterberg a severance package in order to "protect" the campus community. The same month, 38 faculty members signed a letter to UCLA Chancellor Gene Block and other upper-level administrators condemning their decision to allow Piterberg to continue teaching at the college.
The protests against Piterberg have been loud and date back to early 2016, when students first discovered the professor would return this quarter. And they're not going to stop any time soon.
"We'll be there again — it's not a one-time thing," Yong-Yi Chiang, another co-director at Bruin Consent Coalition, said. "It's not our long-term goal, but we think it's important for us to keep disrupting the class because our goal is to keep students safe."
Correction: Jan. 11, 2017