The latest L'Oréal makeup campaign is a master class in diversity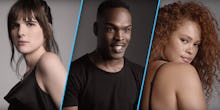 The makeup world may never be the same. 
In the past year, makeup companies seem to have been in a bit of a competition for who can get the most inclusive the fastest. CoverGirl got its first CoverBoy, James Charles. Maybelline cast its first-ever male campaign star, Manny Guitteriez. 
But perhaps the most impressive effort to show that makeup really is for everyone is L'Oréal's latest ad campaign for its True Match foundation, which stars a slew of diverse high-profile celebrities and models of varying skin tones, including one man, one transgender model and two plus-size models. 
In a commercial that premiered during the Golden Globes, viewers got to see model Hari Nef become one of the first trans models to represent a major beauty company. 
They also got to see Marquita Pring and Sabina Karlsson, the two plus-size women in the ad, who are now two of the first plus-size women to work with a makeup company as well. 
And they got to see Darnell Bernard, the man in the ad, further enforce the idea that makeup isn't just for a single gender.
By including all of these people in the campaign, along with people of various different skin tones, L'Oréal seems to be paving the way for a truly diverse makeup industry. 
It's a long time coming. Before this explosion of makeup companies paying attention to men, men had been building a world of their own online, becoming popular makeup vloggers on Instagram and YouTube.
Plus-size women and makeup campaigns were a hot topic last year, with many wondering why plus-size women seemed to be more embraced by the fashion industry than the beauty industry, especially since makeup is one-size-fits-all. It was just December 2015 when the first plus-size woman was named the face of a luxury beauty brand: Clementine Desseaux for Christian Louboutin. 
"When you look at beauty ads, it's pretty clear that the white skinny woman is still pretty much the only model of beauty out there," Desseaux said in a previous interview with Mic. "Even though some brands are doing [the] great work of including of beauty, they are still a very small minority."
Before her, CoverGirl had worked with Queen Latifah and Gabourey Sidibe, and Barneys New York had worked with Robyn Lawley. 
And as far as trans models in makeup campaigns, Hari Nef now joins model Andreja Pejic, who previously worked for Make Up For Ever, as a trans model who's broken through and been embraced by the beauty industry. Besides them, there's also Caitlyn Jenner, who recently launched her very own collection with MAC Cosmetics. 
Clearly, the times are changing, and L'Oréal's campaign reflects just that. 
You can watch L'Oréal's entire commercial below: