Pay less for a home — despite Trump's HUD freeze on FHA mortgage loan insurance discount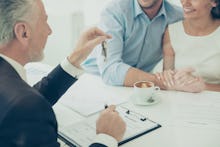 President Donald Trump made quick work of one of former President Barack Obama's parting gifts to aspiring homeowners.
Shortly after the inauguration on Friday, the Department of Housing and Urban Development announced in a statement that a recent reduction in mortgage insurance premiums would be "suspended indefinitely." 
Here's some quick background. 
Back on Jan. 9, HUD announced a new measure to help young homeowners by reducing their insurance premiums on loans backed by the government's Federal Housing Authority. 
Most premiums were expected to go down 25 basis points, or a quarter of a percentage point. That may not sound like a fortune, to be sure, but it was supposed to save most borrowers about $500 a year.
The changes were supposed to go into effect Jan. 27, and would have applied to about 1 in 6 new loans issued in the United States. 
The suspension is not well-timed. 
Lower insurance premiums would have helped Americans who want to buy a home cope with rising mortgage rates — which have already climbed since the Fed raised interest rates in December 2016.
These changes also come at a time when the housing market is strengthening — but young people aren't buying homes. In 2004, about 43% of young adults under the age of 35 owned a home, according to Pew Research Center. 
Now that figure is only about 35%.
Barring some sort of recession (not something anybody should root for) interest rates should continue to rise even higher, making a strong case for first-time buyers to pull the trigger and make homeownership a reality now, before the cost of borrowing climbs more.
Thinking about grabbing up some real estate? Here are three important things to do before you take the leap — and no matter what the government does.
1. Spot bullshit words in listings
Everyone knows that "cozy," is really just code for small, and there's no shortage of terms that real estate agents use to gussy up a dud listing. 
In fact, some of the most important things you might look for can conceal a flaw. Being in a "good neighborhood," for instance, may actually be a signal that that the house you're buying is surrounded by nicer pads. Similarly, "spacious" can simply mean "impractically shaped."
As many as half of real estate listings contain some sort of exaggeration, so use this to your advantage by thinking of them as a kind of heat map to point out your prospective home's flaws.
Read up on the many lists of buzzwords ("captivating?" lol) home sellers use to sway buyers into falling in love with a place before they have even seen it.
A little homework on the property (and digging into public records) won't hurt, either.
When you check out the property in person, watch out for wall cracks, mold under the sink, outdated heating systems and old, single-pane windows. These and other red flags are clues that a home might need expensive maintenance.
If you see flaws that aren't deal breakers, you might want to use them as bargaining chips to negotiate the price down with the seller.
Just remember to behave in a way that is likable and professional. You catch more flies with honey and all that.
2. Know exactly how many rooms you need and how long you want to live there
While many see homeownership as a way to get out from under the thumb of an overbearing landlord, the sad truth is that it takes a lot longer for homeownership to pay off than people realize: up to 10 years.
Meaning, if there's any chance you're going to want to up and move again at the five-year mark? It's likely not worth the plunge.
You've got to make sure you see long-term potential in the home and surrounding neighborhood — and that you'll still want the house after whatever life changes you plan on making over the next decade. 
That requires making some pretty tough decisions about what you want — and where, exactly, you want to live. For instance, getting a second bedroom will be a lot cheaper in the urban or suburban South, where cost of living tends to be lower. But if you ever want to walk to work or avoid having to buy that second car, Southern cities are comparably way less walkable than many Northern counterparts.  
3. Figure out "how much house" you can afford — rather than how to afford the house you want
Between maintenance, insurance costs and additional taxes, many people end up underestimating the true costs of homeownership.
Making matters worse, they also tend to overestimate how much their home is going to return to them as an investment. 
An important move for first-time buyers is to figure out what — if any — forms of assistance they're eligible for.
The "Good Neighbor Next Door" program, for example, subsidizes up to half the cost of a down payment for people in certain professions, like teaching or law enforcement.
Next, many people might know you should have at least 20% of the home's value ready as a down payment in your bank account.
But many first-time buyers forget to account for their debt-to-income ratio, which the FHA uses when deciding whether to underwrite a particular loan. 
Use an FHA calculator to ensure that all of your liabilities — that includes not only your future mortgage payments but also things like student loans and credit cards — add up to no more than 43% of your income monthly. 
Indeed, a big part of being ready to buy a home is establishing a baseline familiarity with a few concepts or terms common in real estate (more homework, yes).
In addition to the debt-to-income ratio, you'll also want to understand the term "equity": the value of your home minus outstanding mortgage payments.
That's key to figuring out when, if ever, a home purchase is going to truly pay off for you — and when you will finally own it, fully.
On the flip side, your biggest concern is avoiding ending up "underwater." That's when the outstanding value of the mortgage is greater than the actual real-time value of your home, which can make it all but impossible to refinance or sell.
Anything is possible, but getting a good deal, and not overpaying in the first place, will help buoy you — so you don't ever get dragged underwater.
Jan. 20, 2017, 3:30 p.m. Eastern: This story has been updated.
Sign up for The Payoff — your weekly crash course on how to live your best financial life.