Trump Inauguration Time 2017: Here's when the presidential swearing in ceremony happens.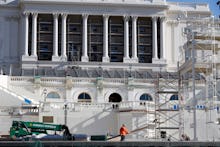 The clock is winding down on the days until the 2017 presidential inauguration, when Donald Trump will be sworn in as the 45th president of the United States. On Jan. 20, regardless of who the inaugural committee is able to book to perform, Trump will be sworn-in at 12 p.m. Eastern. 
Inauguration planners recently unveiled images of the inaugural tickets that show ceremonies beginning at 11:30 a.m, when opening remarks will begin. According to Newsweek, the ceremony will begin at 9 a.m. Eastern. Continuing the tradition of past presidential inaugurations, the vice president-elect will be sworn in first, followed by the president-elect, by the chief justice of the Supreme Court, John Roberts Jr.
In an interview with the New York Times, President-elect Trump said the event would have "an unbelievable, perhaps record-setting turnout," noting "all the dress shops are sold out in Washington. It's hard to find a great dress for this inauguration." 
While the full list of "movie and entertainment stars" Trump promises are being kept close to chest, there are, in fact, plenty of great dresses still available in Washington, and security estimates Trump's inauguration will see a crowd of about 800,000, including protesters (Obama's 2009 inauguration set the record with 1.8 million attendees).
If you can't watch the inauguration in-person, Lifewire reports that every major news site will be covering the presidential inauguration either online, on your TV or both. CNN, CSPAN, MSNBC and Fox typically provide coverage of the swearing-in and inaugural speech on TV. Twitter hasn't formally announced plans to livestream the inauguration, but you can keep up to date and join the conversation using hashtag #Inauguration or by following Trump's inaugural committee updates here.
According to the presidential inaugural committee schedule, the ceremony will end at 3 p.m. and will be followed by an inaugural parade. Tickets are no longer available for the inauguration, but non-ticketed attendees are encouraged to watch from the National Mall, west of Fourth Street.