What time does 'Taboo' premiere? Everything you need to know about the new FX series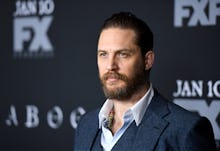 Taboo, the new miniseries starring Tom Hardy as a man returning from Africa to Regency-era London, premieres at 10 p.m. Eastern Tuesday on FX. 
The eight-episode drama, which was created by Tom and Chips Hardy in collaboration with Steven Knight, chronicles the life of James Keziah Delaney, who returns to England in 1814 after having been presumed dead following the wreck of a slave ship in Africa. His homecoming is instigated by the death of his father, who named him the sole heir to the family's shipping business. Unfortunately for Delaney, though, the East India Company has set its sights on obtaining it. 
Taboo includes flashbacks to Delaney's mysterious past and addresses family secrets, including incest. But that's not all — it also covers slave trade and corruption inside large corporations set against the backdrop of the War of 1812, according to CNN. The stiff social setting of 19th-century London is not welcoming to Delaney's PTSD, nor his foreign customs and habits.
The cast of Taboo includes Oona Chaplin as Zilpha Geary, Jonathan Pryce as Sir Stuart Strange, Jefferson Hall as Thorne Geary, Nicholas Woodeson as Robert Thoyt, Edward Fox as Horace Delaney, David Hayman as Brace, Franka Potente as Helga, Richard Dixon as Pettifer, Edward Hogg as Godfrey, Leo Bill as Wilton, Roger Ashton-Griffiths as Appleby, Andrew Greenough as Mace and Christopher Fairbank as Ibbotson. 
Produced by Ridley Scott, Taboo reunites Tom Hardy and Knight, who collaborated on the series Peaky Blinders.