Jeff Sessions Voting Record: 6 troubling signs for progressives in the Alabama senator's record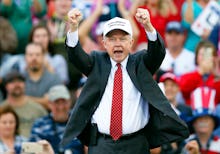 Sen. Jeff Sessions is set to start his hearings to be confirmed as President-elect Donald Trump's attorney general Tuesday morning. The nomination is already causing more of a stir than most presidential appointments, with the Congressional Black Caucus vowing to make Sessions' record on race and civil rights a key issue in his hearing, and Democratic Sen. Corey Booker choosing to testify against his senate colleague — the first time that has ever happened.
Here are six issues and Sessions' record on them that are already making progressives nervous as he auditions to become America's top law enforcement official:
His views on Civil Rights
Sessions (R-Ala.) has a very troubling history on issues of race. Allegations that he used racial slurs and sympathized with the Ku Klux Klan led members of the NAACP to protest outside his Senate office when his nomination was announced in December. He has also advocated for segregation in education and sympathized with white supremacists, and called the NAACP "un-American" and "Communist-inspired."
His views on marijuana
Though marijuana is still illegal at the federal level, there has been a movement in recent years to legalize or decriminalize the drug. Don't expect anything like that from Sessions, who has consistently argued against legalizing the drug and called it "dangerous." He could use the Justice Department to go after the nascent marijuana industry in states where the drug is legal.
His stance on women's and LGBTQ rights
Sessions' record on women's rights is also sure to concern many progressives. He is staunchly opposed to abortion rights, and his comments about sexual assault during the Trump campaign led to protests.
And if any issue involving LGBTQ rights has come before Sessions, he has without fail voted against it. He opposes gay marriage, was against repealing "Don't Ask, Don't Tell," and doesn't believe in job protection for LGBTQ people.  He consistently scores a zero on the Human Rights Campaign's report card on how lawmakers fare on LGBTQ issues.
His thoughts on immigration
It was no surprise when Sessions endorsed Trump during the Republican presidential primary. Immigration was Trump's signature issue, and Sessions has consistently been one of the Senate's biggest hardliners on immigration issues. Given the Justice Department's role in enforcing immigration law, this could be especially troubling.
His approach to police reform
The Obama administration Justice Department has worked hard on police reform in the wake of a number of high-profile and controversial police shootings. That is unlikely to continue under Sessions.  He has stated that there is currently a "war on police" and doesn't think the federal government should investigate local police departments.