Jared Kushner and anti-nepotism statutes: What you need to know about the controversy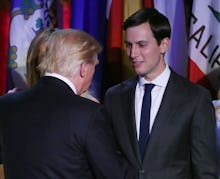 Is President-elect Donald Trump's appointment of Jared Kushner to a top White House position a violation of anti-nepotism laws?
Trump on Monday tapped Kushner, the husband of his eldest daughter Ivanka, to be his senior adviser. Kushner, a New York real estate developer and owner of the Observer media company, and Ivanka have been acting as somewhat unofficial advisers to Trump.
In a statement, Trump described Kushner as "a tremendous asset and trusted adviser throughout the campaign and transition."
But Democrats in the House Judiciary Committee are calling for a review of the appointment, and ethics experts from both parties have previously said the appointment would violate anti-nepotism laws. Critics have also raised concerns about the numerous conflicts of interest a Kushner appointment creates.
What the law says
Kushner's appointment would seem to be in violation of the 1967 Federal Anti-Nepotism Statute, also known as Section 3110, which prohibits executive agency officials from appointing relatives to "a civilian position in the agency in which he is serving or over which he exercises jurisdiction or control."
In November, ethics lawyers from both parties told the New York Times that this statute would bar Kushner's appointment. 
On Monday, after the appointment was announced, House Democrats sent a letter to the Department of Justice and the Office of Government Ethics to examine the legality of the appointment. 
"In this case, given the express inclusion of the President as a 'public official' under the anti-nepotism statute," the Democrats wrote, "there is a strong case to be made that the White House is an 'agency' for purposes of the anti-nepotism statute and that it would apply to bar Mr. Kushner's appointment as a White House staff member."
But things may not be so simple.
The law was created in 1967, several years after President John F. Kennedy appointed his brother, Robert, to attorney general. It became a point of contention in 1993 when Hillary Clinton, then the first lady, led a health care task force; a federal judge ruled that leading the task force did not make her a government employee.
The National Constitution Center notes that several academics have since questioned whether the statute applies to the president and whether the White House can be considered an "agency" of the executive branch. Further, federal Judge Laurence Silberman told the center it's possible the law could only apply to paid government positions. Kushner will not take a salary, according to the Times. 
It's also unclear how much Democrats are willing to push back against Kushner, whose family has a long relationship with the Democratic Party. Some Democrats, including New York City Mayor Bill de Blasio, view Kushner as a potential voice of reason in the Trump administration, the Times reported; Kushner is seen as being more liberal on social issues, and has donated to Democrats, including New Jersey Sen. Cory Booker. (Kushner's appointment does not require confirmation from the U.S. Senate.)
Still, ethics counselors from both the Barack Obama and George W. Bush administrations have said that the appointment is a clear violation of Section 3110. Norman Eisen, who served as ethics counsel to Obama, said the appointment would raise the question, "Is your first loyalty to him or to the Constitution?" Richard Painter, who held the post under the second Bush administration, told Politico in November that Kushner "cannot take a job in the White House" and deemed a potential appointment "highly inappropriate."
Kushner's conflicts of interest
In addition to the legal challenges his appointment has raised, Kushner also brings further potential conflicts of interest to a Trump administration already rife with them.
Kushner, who will advise his father-in-law on matters related to trade and the Middle East, reportedly has investment ties to Russia and China, and his businesses have received loans from Bank Hapoalim, the largest bank in Israel that has been under U.S. investigation for allegedly helping wealthy Americans evade taxes. He also has ties to Goldman Sachs, and has been a strong proponent of naming Gary Cohn, the bank's president, as the chief economic adviser, the Independent reported.
Last week, Kushner was reportedly negotiating a massive real estate development deal with a Chinese financial firm that has links to the Chinese government.
Jamie Gorelick, Kushner's legal adviser, said the new senior adviser would divest from his companies and step down from his business positions, and that he would remove himself from participating in matters that could impact his financial interests, the Independent reported.
But in their letter to the justice and ethics departments, House democrats questioned whether that was enough. 
"His attorney has indicated that he would 'recuse himself from any matters having a direct impact on his remaining financial interests,' suggesting that he would not completely divest himself of assets that could raise a conflict of interest," the letter read. "Also, there is no indication that his wife, Ivanka Trump, would divest her ownership interest in the Trump Organization or any other financial interests that could further raise potential conflicts of interest in her father's Administration.
"Moreover, Mr. Kushner's White House position may allow him to influence policy that benefits his business interests.
Trump has faced criticism over his handling of his own conflicts of interest. He is about to enter office with "interests in hundreds of businesses, billions in assets, and more than $700 billion in debts," according to Mother Jones, raising questions over how Trump's business interests will factor into his governing.
On Monday, Sen. Elizabeth Warren — an outspoken critic of Trump — introduced a bill that would require "the president, vice president, their spouses and minor or dependent children to divest all interests that create financial conflicts of interest placing those assets in a true blind trust."
"The American people deserve to know that the president of the United States is working to do what's best for the country — not using his office to do what's best for himself and his businesses," Warren said in a statement.
Correction: Jan. 10, 2017