The xx's new album 'I See You': Everything we know about Friday's release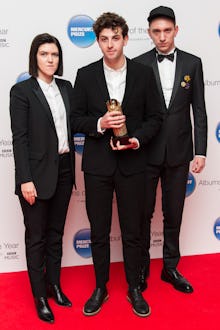 The xx releases its long-awaited new album, I See You, on Friday, Jan. 13, and it's already being called the band's most fun album to date. But don't worry, The xx still has plenty of moody love songs for us to cry over.  
It's been a few years since the release of the band's previous album, Coexist, in 2012. Since then, band member Jamie Smith released a solo album — In Colour — as Jamie xx, and the band has toured off and on. They've recently been mailing fans free tickets to its upcoming North American tour.  
The band knows its signature moody sound has become popular over the last few years — thanks to artists like Lorde and The Weeknd — and wanted to switch it up for their latest release. 
"We're portrayed to be sadder, moodier people than we are. With this album, we've tried to shake it a bit and be more fun," the band told Billboard. 
The new album consists of ten songs, according to the band's website. Two songs have already been released: "On Hold" and "Say Something Loving." Here's the official track listing:
1. Dangerous
The album is earning critical praise so far. NME says the band finds a balance with its old and new sound and calls touching ballad "Performance" the album's highlight. 
Clash refers to the album as the band's bravest effort yet. While the album still feels and sounds like The xx we've come to know and love, the band experiments with its sound more than ever before on this record, reinventing itself in the process. 
Under The Radar notes the album seems to have been inspired by Jamie xx's book for the better, while the second half calls to mind the "simple, clean production" of its debut LP.