Protesters disrupt Jeff Sessions confirmation hearing with KKK call-out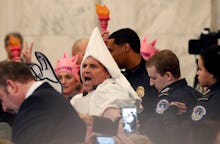 Sen. Jeff Sessions' confirmation hearing for attorney general got off to a rocky start Tuesday, with multiple protests disrupting the proceedings referencing the Ku Klux Klan.
Even before introductions began, two protesters dressed in Ku Klux Klan regalia stood to try and disrupt the proceedings. They were immediately led out of the room by Capitol police officers.
As Sessions himself was delivering his opening statements, two groups of protesters chanting "No Trump, no KKK, no fascist USA" began disrupting and were subsequently removed by Capitol police officers.
One female protester called Sessions a pig as she was led out of the room.
The protests continued as Sessions took the stand during the confirmation hearings.
Sessions' confirmation hearings are expected to focus, in part, on past allegations of racism.
The allegations ended up scuttling an appointment to a federal judgeship in the 1980s.
Senate Judiciary Chairman Chuck Grassley, who is leading the hearings, warned that protests will not be tolerated during the hearings, however his warnings were not heeded. 
"It's simply not fair, it's simply not considerate to others, so officers will immediately remove those individuals," Grassley said of protesters.