The sheet pan nacho is literally the only nacho recipe you need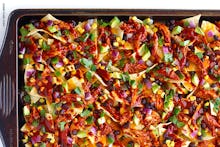 Oh, nachos. So cheesy, gooey and crispy all at once, you're truly the perfect food. 
But getting that perfect texture is hardly attainable in the microwave, and standing over the stove to slowly melt a cheese sauce to then drizzle over a pristinely plated stacks of tortilla chips and jalapeños rings isn't always the best option for the time-pressed. 
Enter: the sheet pan nacho. Spread all your glorious nacho ingredients on a sheet pan, bake, and presto — amazing nachos! And yes, you can eat them straight off the pan. You'll never make nachos any other way again. 
Here are the sheet pan nachos you need in your life, pronto. 
Basic sheet pan nachos
These nachos, loaded with veggies, meat, beans and more, are your loaded nacho dreams come true — all on one sheet pan. Get the recipe here. 
Tequila lime sheet pan chicken nachos
Why wait to drink until you pour the margaritas? These sheet pan nachos have the tequila baked right in! Get the recipe here. 
Sheet pan chicken nachos
These sheet pan nachos take a slightly different approach, crisping up the pulled chicken and chips on the tray before drizzling melted white queso over the hot chips. Get the recipe here.
Sheet pan green chili beef nachos
This meaty fiesta all fits on one pan for optimum dig-in potential. Get the recipe here. 
Ultimate pulled pork nachos
If you want to give your nachos more depth, try making these meaty nachos in a baking dish rather than a sheet pan. Forks and fingers will be ready to go as soon as the melty creation is out of the oven. Get the recipe here. 
Three cheese skillet nachos
Another oven-safe method to make crisp nachos? A skillet! Sub out the sheet pan in this vegetarian recipe for seriously flavorful nachos. Get the recipe here.
Chicken Enchilada Nachos
If you dream of nachos as a complete meal, these chicken enchilada sheet pan nachos are a solid choice. Get the recipe here. 
Chicken fajita nachos
These chicken-topped sheet pan nachos require some serious chicken prep, but all the work is worth it when you bite into that first fajita-covered chip. Get the recipe here.
Toasted ravioli sheet pan nachos
The holy grail of all sheet pan nachos, these baked nachos use breaded ravioli as a base. Yeah, that's stuffed pasta and nachos all on one pan! Get the recipe here. 
Vegan Chick'n nachos
Nachos may not be the first thing to come to mind when you think vegan cuisine, but these meat- and dairy-free sheet pan nachos are totally delicious and cruelty-free! Get the recipe here.