Ben Affleck says he is directing 'The Batman,' but don't ask him about a premiere date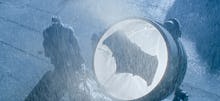 Ben Affleck was all but a sure thing to direct a solo Batman movie, following Justice League. The Live by Night director, however, cast some doubt on that expectation in a conversation with the Guardian on Jan. 1. "That's the idea," Affleck said regarding directing the DC film. "But it's not a set thing and there's no script. If it doesn't come together in a way I think is really great I'm not going to do it." 
Now, in a conversation with Jimmy Kimmel on Jimmy Kimmel Live, Affleck is doing his best to remove that doubt. "I'm gonna direct the next Batman," the actor told Kimmel. "We're working on it." 
Affleck also noted how different fan expectation is for a film like The Batman, as compared to his most recent film, Live by Night, telling Kimmel:
It's one of those things that's really frustrating — with 'Live by Night,' it took me a year and a half to write it and get it ready and I worked really hard, and nobody gave a shit. No one was like, "Where's 'Live by Night?!'" But with 'Batman' I keep on getting, "Where's the fucking 'Batman?!'" and I'm like, "I'm working! Can you give me a second?!"
Kimmel also jokingly asked Affleck whether there was any chance we would see his brother, Casey Affleck, cast as Batman's sidekick, Robin. Well, after Casey forgot to mention Ben in his Golden Globe acceptance speech for Manchester by the Sea, it appears the older Affleck will not be doing his brother any favors. Kimmel's advice for Casey if he wants to be in The Batman? "Better think twice at the Oscars when he gives that speech."
Though the first three films in the DC Extended Universe — Man of Steel, Batman v Superman: Dawn of Justice and Suicide Squad — were financially successful, they received mix reactions (that's being generous). Still, Affleck has a chance to turn around the future of the franchise.
The Batman is currently without a release date. Affleck can next be seen as Batman in 2017's Justice League. You can watch his conversation with Jimmy Kimmel below: 
Mic has ongoing coverage of Batman. Please follow our main Batman hub here.