Howie Mandel is banking on amateur bad singing for Spike's 'Caraoke Showdown'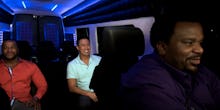 "The less talent they have, the better." 
There aren't many times in showbiz you hear those words said with a straight face. But that's what executive producer Howie Mandel told Mic about his new series, Caraoke Showdown, which premieres Jan. 12 on Spike TV. When the contestants are bad, the watching gets good. 
What is Caraoke Showdown?
Caraoke Showdown is a half-hour game show hosted by Craig Robinson. The Office actor poses as a driver and swoops up unsuspecting contestants to get down and make fools of themselves. They sing, finish the lyrics to songs, dance for strangers on the street and complete whatever other tasks and stunts Robinson instructs them to do. And, yes, there are celebrity guest appearances, too, so it's not all amateurs belting out their sorrowful best. 
Put another way, Caraoke Showdown is a blend of Cash Cab and Carpool Karaoke — but with a lot more Craig Robinson.
"At most, [contestants who get into the car] were expecting to get from Point A to Point B. Then it's, 'Oh my God, that's the guy from The Office,'" Mandel, who first became interested in the show idea three and a half years ago, told Mic. "Then they can say, 'I was just going out for a drink and now I have $7,000 cash and a story I can tell for the rest of my life."
When to watch it
The 10-episode series premieres on Spike TV at 10:30 p.m. Eastern Jan. 12, following a new episode of Lip Sync Battle.