'Splatoon Counterattack' Nintendo Switch Game Rumors: Everything we know about the port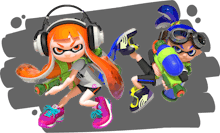 Nintendo confirmed that Splatoon would be available for the Nintendo Switch in the console's original teaser trailer. Now a fresh leak may have revealed the ported game's new title: Splatoon Counterattack. We're excited to see what changes might be coming to Nintendo's cartoonish online shooter, but we also can't help but wonder what this might mean for the Nintendo Switch's rumored Super Smash Bros. port.
Splatoon Counterattack: Is this Nintendo Switch port real?
A list of leaked Nintendo Switch launch games has recently made its way around the web. According to TweakTown, IGN France let the list of launch games slip. The list included potential Nintendo Switch titles such as Super Mario Frost Land and Super Mario RPG: Rabbid's Invasion. The list interestingly also included a game named Splatoon Counterattack.
It's unclear whether Splatoon Counterattack will be an expansion of the current game or a full-on sequel. And that's if it even exists. We can't be sure of the validity of this Nintendo Switch leaked game list until the company's Thursday livestream. 
Splatoon Counterattack: Why a Smash Bros. Switch tie-in makes sense
The Smash Bros. series has always done double-duty as astounding fighter game and fantastic promotion machine for other titles. And if the Nintendo Switch trailer showed us anything, it's that the Japanese gaming company wants the Switch to be used to play some good ol' Splatoon. What better way to get Nintendo fans in the mood to spray each other with paint than to add the game's characters to Smash Bros.?
We could see one or both of Splatoon's Inklings added to the Nintendo Switch version edition of Super Smash Bros. 4. The characters have an array of attacks that could be suited for fighting in the Smash arena. Just imagine using an ink gun for a mid-range neutral attack, entering squid form to dodge attacks or using a blaster to launch yourself higher in the air for better recovery.
More Nintendo Switch news and updates
Check out more Nintendo Switch coverage, including Mic's reports on whether the console will be backward-compatible, if more characters are coming to Smash Bros., what current games we want high-definition remakes of and information about the upcoming Nintendo Switch event.