A woman froze to death in Portland, Oregon, after being evicted for $338 in overdue rent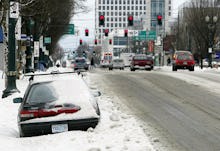 A woman who died of hypothermia in a Portland, Oregon, parking garage on Saturday had been evicted from her home in a low-income housing facility in October — after falling $338 behind in rent, according to reports.
Fifty-two year old Karen Batts had grown up in Portland. She had schizophrenia, Oregon Public Broadcasting reported, and had lived seven years in the Oak Street Apartments, a housing facility for seniors and people with disabilities that is managed by Northwest Housing Alternatives.
For much of that time, OPB reported, Batts was a "model resident," but over the last year "her behavior changed." Martha McLennan, executive director of Northwest Housing Alternatives, told OPB their staff and other mental health workers checked on Batts, but she didn't meet the criteria for a mental health hold.
Over roughly the same time, Batts also fell out of touch with her family; she stopped returning their calls and refused to buzz in her brother, Alan Batts, when he tried to visit her, he told OPB.
When Batts was evicted, she was two months behind on her rent. According to local NBC affiliate KGW, citing information from the property management company, she owed $338 in past-due rent.
Karen Batts' mother, Elizabeth Batts, told OPB no one informed her of her daughter's circumstances. She said she would have paid her daughter's rent — something she had done before — if she had known she was about to be evicted.
Once Batts had been evicted, she began sleeping on the street — and it was even harder for her family to find her. Her brother told OPB that she said she had been bullied at shelters before, and he said she didn't want to be taken to one. 
"People were out there trying to find people, to get them to shelters, and she was doing everything she could to stay away from them," he told OPB.
Temperatures were below freezing in Portland on Saturday. Around 2:05 p.m., police were called about a woman who "appeared to be struggling in the cold weather" and was taking off her clothes, KGW reported, which can happen in the final stage of hypothermia. 
When first responders arrived, Karen Batts was dead. 
Hypothermia among homeless people
Batts' cause of death, sadly, is not unusual. In Portland alone, two other people living on the street have died of exposure in 2017, OPB reported, citing the Multnomah County Medical Examiner's Office. In 2010, National Coalition for the Homeless estimated 700 people at risk of or experiencing homeless die of hypothermia each year in the U.S.
It's not just a risk in winter months. "Hypothermia is more of a concern in winter, but you can actually get hypothermia in as warm as 50- or 60-degree weather," Megan Hustings, director of the National Coalition for the Homeless, said in a phone interview on Tuesday. "It's really a risk all the time. Living outdoors is really not appropriate for humans — we're just not built to sustain living outdoors."
Hustings said that "even if there might be shelter beds available in a city, they might not be open to the people who need them." Some shelters only offer spaces to families, leaving single people without options — while some may have spaces for only men or only women.
And, what seems to have been the case with Batts, "shelters can feel very unsafe for some folks," Hustings pointed out. Often, she said, the best thing to do if you see someone on the street who appears to be struggling because of the cold temperature is to approach them and ask if they need help.
"Familiarize yourself with the kinds of recourses available in your community so that you can help educate others," Hustings said.
How Karen Batts ended up alone on the street
As for why reportedly no one alerted Karen Batts' family that she was in danger of eviction, McLennan, the Northwest Housing Alternatives executive director, told OPB that privacy laws often prevent them from contacting family members when residents in their facilities are in danger of losing their homes.
"I see situations not uncommonly, where the person who needs the help doesn't know how to ask, or can't ask, or is in no shape to have that realization and ask," McLennan told OPB, apparently speaking about Batts' mental health.
Mic has reached out to McLennan requesting further details on Batts' eviction.
"Nobody reached out to us," Karen Batts' mother told OPB. "Nobody cared about us to tell us what was going on. I mean, why couldn't somebody tell us something."